{ "page": { "pageInfo": { "pageType": "resource" }, "components": [], "section": "sites:cee:en:ep:industry-perspectives:article:coaching", "pageName": "Coaching: The Path to Uncommon Leadership" }, "events": [], "form": [], "search": {}, "file": [], "user": [], "error": [] }
{ "salesforceUrl":"https://webto.salesforce.com/servlet/servlet.WebToLead?encoding=UTF-8" , "solrUrl":"https://www.isb.edu/solr/university" , "initialRouteUrl":"https://hrm.exchange.isb.edu/ProdAEMEvents/Articles" , "siteName":"cee" , "serverDownMessage":"Internal server error, please try again after some time" }
[{"value":"utm_source","text":"00N0I00000KT1fD"},{"value":"utm_medium","text":"00N0I00000KT1fI"},{"value":"campaignname","text":"00N0I00000KT1fN"},{"value":"uterm","text":"00N0I00000KT1fS"},{"value":"adgroupname","text":"00N0I00000KT1md"},{"value":"keyword","text":"00N0I00000KT1mx"},{"value":"creative","text":"00N0I00000KT1nR"},{"value":"devicemodel","text":"00N0I00000KT1ng"},{"value":"placement","text":"00N0I00000KT1nq"},{"value":"target","text":"00N0I00000KT1ot"},{"value":"device","text":"00N0I00000KT1o0"},{"value":"network","text":"00N0I00000KT1o5"},{"value":"matchtype","text":"00N0I00000KT1oA"},{"value":"gclid","text":"00N0I00000KT1oF"},{"value":"campaignname","text":"00N0I00000KT1nM"},{"value":"term","text":"00N0I00000KT1n7"}]
We are going through turbulent times - be it the innovations and disruptions in businesses or crises like the pandemic – that call for leaders to navigate these changes deftly. The narrative around how one defines a good leader is evolving with these changing needs

Leaders today are expected to go beyond their traditionally defined roles and responsibilities to provide active guidance and support, like a coach and to build an organisational culture that fosters this.
Coaching has never been more important than it is today, in the organisational context.
Uncommon Leadership
As we evolve from a landscape of instruction to motivation, from leading by influence to leading by impact, to a people-centric leadership style, there is a growing need and demand for uncommon leadership.
Uncommon leadership, or uncommon leaders, are those that achieve success by helping others grow. These leaders understand that it's not just about numbers and revenue anymore, but it is about the collective, collaborative journey that gets you there. It is about the teams that you build along the way.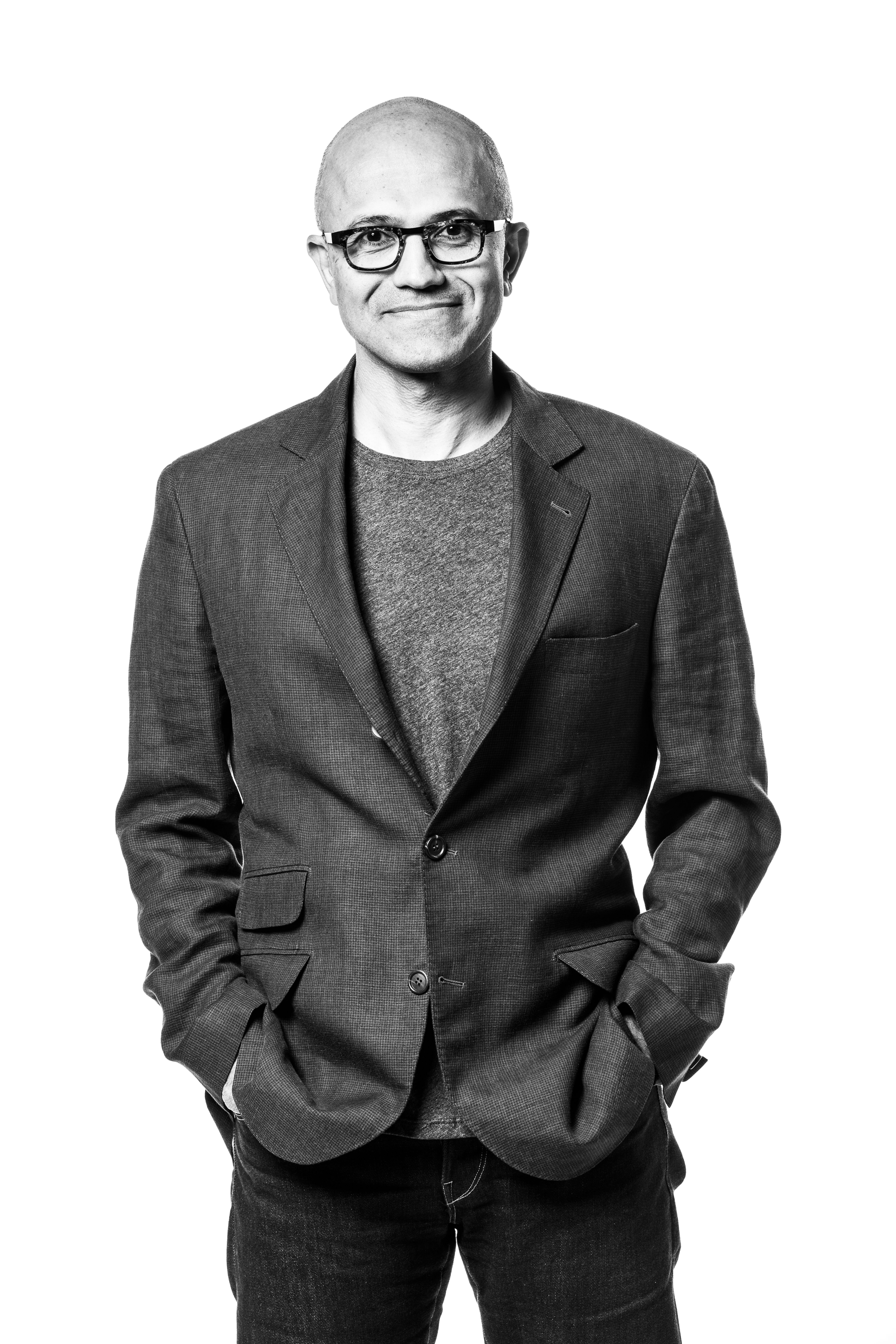 Uncommon Leader
Satya Nadella
Executive Chairman & CEO, Mircrosoft 
When Satya Nadella inherited Microsoft in 2014, the organisation was in shambles. And when he came onboard, he set many things right, from cloud computing and artificial intelligence to social networking, making Microsoft what it is today, one of the most innovative, collaborative and customer-centric organisations.

But if you listen to or read his interviews, he doesn't talk about all that. He talks of recalibrating the organisation culture and that to him, the C in CEO, stands for culture.
In his first year at the helm of Microsoft, he together with his HR Head, Kathleen Hogan created a Management Excellence Framework, called 'Coach everybody'. Every leader, regardless of their role, and the size of their teams would coach others. He/she would be the 'role model', and 'care' for his/her people with empathy, thereby creating a culture that had people at the core of it.
Leaders as Coaches
The changes we witness in businesses today are no longer linear. They necessitate quick shifts in mindsets, for people to get into new models, domains, and ways of working. This is where coaching comes in, in supporting people achieve these quick shifts.
It is the people enablement that really defines the whole premise of leader as a coach. Coaching, itself can be defined as the act of maximising your talents' current performance and unlocking their future potential, through a series of self-enabling and non-directive conversations.
Coaching vs. Mentoring
One often tends to use coaching and mentoring interchangeably. But there is a distinct difference between the two.
A mentor would typically be someone older, someone you would look up to for advice, and value their judgment. The advice is generally prescriptive in nature and your mentor needn't necessarily be a part of your current work ecosystem. He/she could be an ex-client, an ex-boss, even a family friend. Mentors essentially guide you, be it in your career journey or in your personal life.
A coach, on the other hand, is not guiding you in your journey. He/she is usually in your work ecosystem, giving you real-time feedback, asking you open-ended questions to lead you towards finding your own solutions. A coach will not tell you what to do but will prompt you to look inwards and discover your own path.
Impact of Coaching on Organisations
Though it is difficult to precisely measure the results of training or coaching on overall organisational performance, studies have indicated that there is a correlation.

According to BCG's Global Leadership and Talent Index, which studied the impact of leadership and talent management on the financial performance of an organisation. It was found that the companies which invested in leadership and talent management, increased their revenues 2.2 times faster, and profits 1.5 times faster, than what they call the 'talent laggards' or companies that rated themselves the weakest on this parameter.
Thereby, concluding that making leaders accountable for talent development and investing in long-term strategic planning and talent development helped organisations grow and achieve financial impact.
Capabilities that matter the most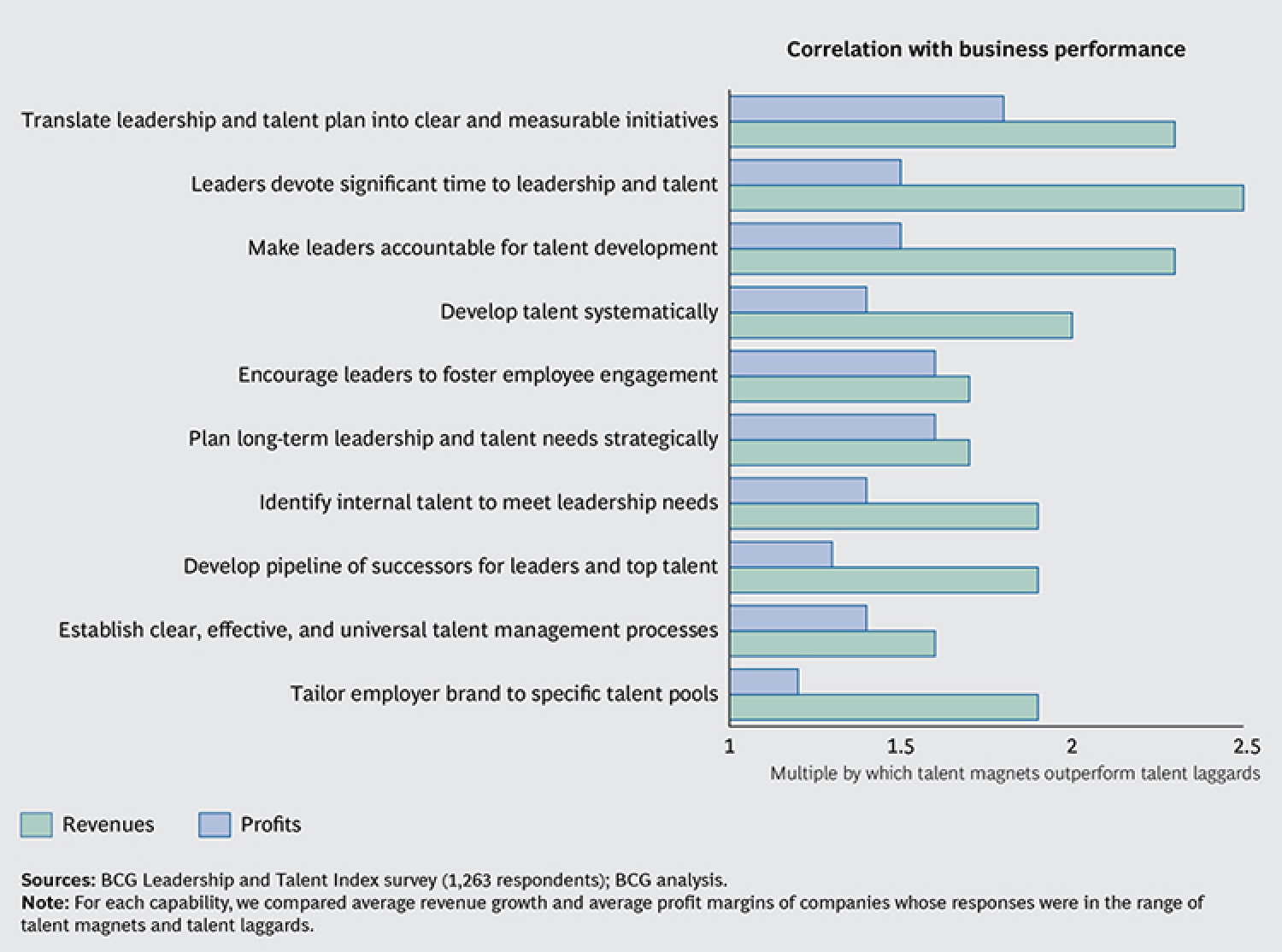 Process of improving leadership & talent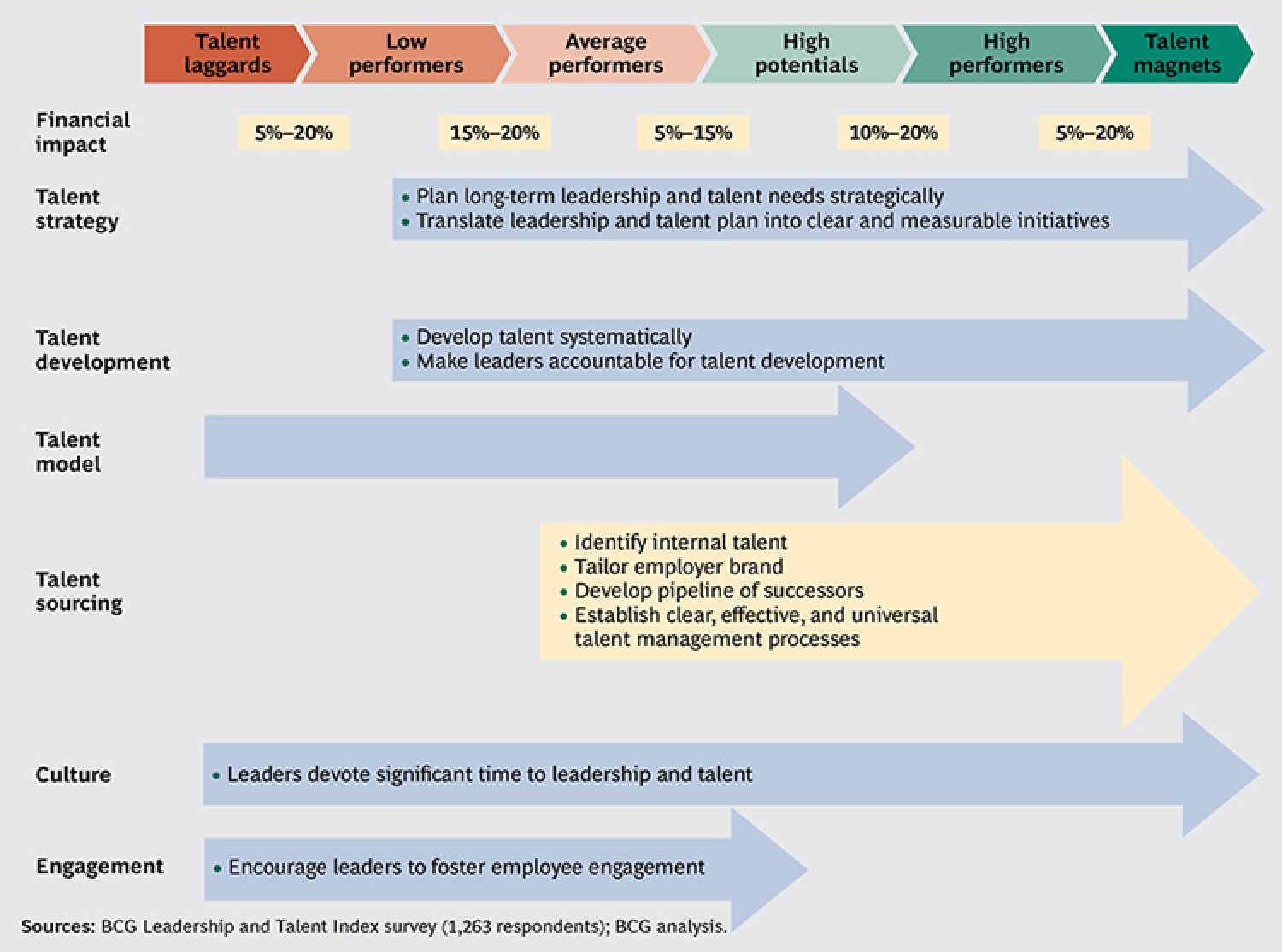 Building a Culture of Coaching
Leaders therefore need to consciously build a culture of coaching within their organisations to enable and ensure that this individual skill becomes an organisational one.

1.  The Coaching Mindset
Training people on coaching is a great place to begin. But it is also equally important for those skills to permeate beyond the senior leaders, down the line. For coaching to become part of the organisational culture, both the leader and the employees need to understand the relevance of coaching and be willing to coach and being coached.
2.  Organisational Commitment
Organisational commitment is imperative to infusing this coaching mindset into the organisation's DNA and weaving it into the cultural fabric.
One could use the concept of 'ARC'- architecture, routines, and culture, borrowed from economists Saloner, Shephard, and Podolny, to achieve this. Architecture is the set of processes and structures in place — organisational design, performance systems, incentives. Routines are the everyday processes— how employees are hired, promoted and how successes and failures are handled in the organisation. While the rituals and norms, the way things are done make for the culture. When you measure what matters and hire, promote, elevate and celebrate people who are enabling and building other leaders, coaching becomes part and parcel of the culture.
To embed coaching into the organisation's ARC, one needs to demonstrate by example, lead through role models.
3.  People Enablement
Culture cascades from the leader. Organisations where there is a clear focus on building, nurturing, and honing individual coaching skills and a coaching mindset, become 'learning organisations' that produce uncommon leaders. Leaders who understand that building the next line of leaders is their responsibility and function as agents of change who leave behind a legacy of coaches.
In the corporate world or elsewhere, coaching isn't about learning new skills. It is in many ways about unlearning, about letting go of old beliefs and opening your mind to the many possibilities. It is in fact this conviction, the belief that everybody can change and grow which will help one evolve into an uncommon leader.