{ "page": { "pageInfo": { "pageType": "resource" }, "components": [], "section": "sites:cee:en:ep:learning-perspectives:infographic:group-decision-making", "pageName": "Practices for Effective Group Decision Making" }, "events": [], "form": [], "search": {}, "file": [], "user": [], "error": [] }
{ "salesforceUrl":"https://webto.salesforce.com/servlet/servlet.WebToLead?encoding=UTF-8" , "solrUrl":"https://www.isb.edu/solr/university" , "initialRouteUrl":"https://hrm.exchange.isb.edu/ProdAEMEvents/Articles" , "siteName":"cee" , "serverDownMessage":"Internal server error, please try again after some time" }
[{"value":"utm_source","text":"00N0I00000KT1fD"},{"value":"utm_medium","text":"00N0I00000KT1fI"},{"value":"campaignname","text":"00N0I00000KT1fN"},{"value":"uterm","text":"00N0I00000KT1fS"},{"value":"adgroupname","text":"00N0I00000KT1md"},{"value":"keyword","text":"00N0I00000KT1mx"},{"value":"creative","text":"00N0I00000KT1nR"},{"value":"devicemodel","text":"00N0I00000KT1ng"},{"value":"placement","text":"00N0I00000KT1nq"},{"value":"target","text":"00N0I00000KT1ot"},{"value":"device","text":"00N0I00000KT1o0"},{"value":"network","text":"00N0I00000KT1o5"},{"value":"matchtype","text":"00N0I00000KT1oA"},{"value":"gclid","text":"00N0I00000KT1oF"},{"value":"campaignname","text":"00N0I00000KT1nM"},{"value":"term","text":"00N0I00000KT1n7"}]
Practices for Effective Group Decision Making
Groups are better than individuals at making complex decisions because they bring a diversity of perspectives to bear on the problem at hand, act as error-correcting mechanisms and provide social support or proof that might be critical for new ideas. However, some of the processes that can work to promote efficacious thinking or decision-making in groups can also backfire and lead to worse outcomes.
Here is a quick guide adapted from Prof Deepa Mani's course, on practices to overcome group behaviours that reduce creativity and impede effective decision-making.
Decision-Making is taught as a part of our Comprehensive Leadership Programmes.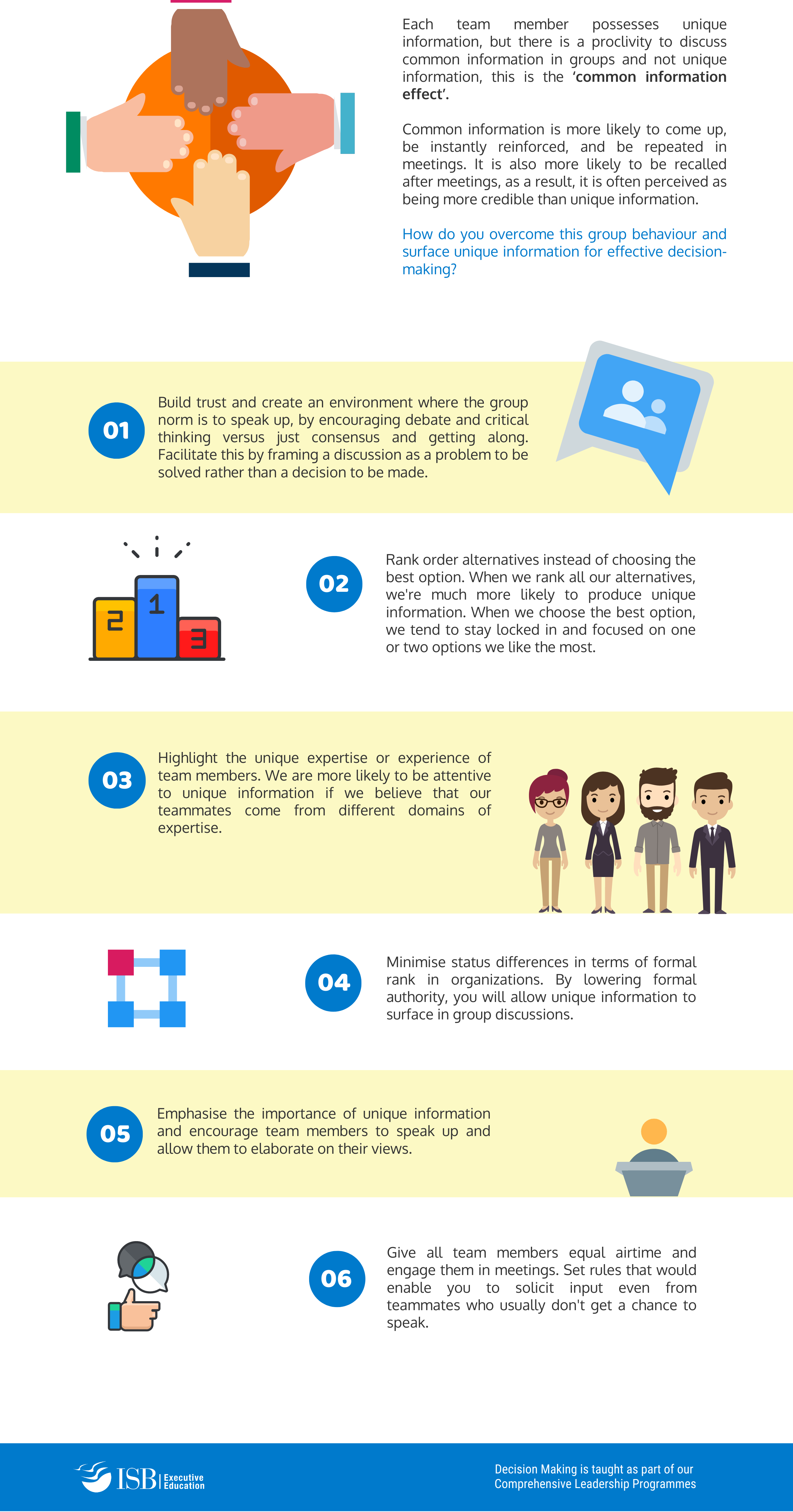 Business Storytelling and Executive Presence
Use the power of communication to lead effectively.
On-Campus

TBD

85,000 + Taxes
Building Sustainable Organisations
Drive purpose-driven strategies with lasting impact.
On-Campus

TBD

1,10,000 + Taxes
Essentials of Leadership
Unlock your full leadership potential
On-Campus

TBD

1,50,000 + Taxes