{ "page": { "pageInfo": { "pageType": "genericPage" }, "components": [], "section": "sites:cee:en:executive-perspectives:industry-perspectives:AngelInvesting", "pageName": "Angel Investing: Enabling Entrepreneurial Journeys " }, "events": [], "form": [], "search": {}, "file": [], "user": [], "error": [] }
{ "salesforceUrl":"https://webto.salesforce.com/servlet/servlet.WebToLead?encoding=UTF-8" , "solrUrl":"https://www.isb.edu/solr/university" , "initialRouteUrl":"https://hrm.exchange.isb.edu/ProdAEMEvents/Articles" , "siteName":"cee" , "serverDownMessage":"Internal server error, please try again after some time" }
[{"value":"utm_source","text":"00N0I00000KT1fD"},{"value":"utm_medium","text":"00N0I00000KT1fI"},{"value":"campaignname","text":"00N0I00000KT1fN"},{"value":"uterm","text":"00N0I00000KT1fS"},{"value":"adgroupname","text":"00N0I00000KT1md"},{"value":"keyword","text":"00N0I00000KT1mx"},{"value":"creative","text":"00N0I00000KT1nR"},{"value":"devicemodel","text":"00N0I00000KT1ng"},{"value":"placement","text":"00N0I00000KT1nq"},{"value":"target","text":"00N0I00000KT1ot"},{"value":"device","text":"00N0I00000KT1o0"},{"value":"network","text":"00N0I00000KT1o5"},{"value":"matchtype","text":"00N0I00000KT1oA"},{"value":"gclid","text":"00N0I00000KT1oF"},{"value":"campaignname","text":"00N0I00000KT1nM"},{"value":"term","text":"00N0I00000KT1n7"}]
Angel Investing: Enabling Entrepreneurial Journeys
Angel investors play a crucial role in enabling entrepreneurial journeys. With more and more start-ups emerging in India, it has become imperative to understand how the angel investing and venture capital space in the country is evolving and adapting.
Here are some valuable insights - drawn from investment patterns, success stories and emerging trends in the start-up ecosystem - that are relevant to both founders and investors.
The Changing Landscape of Angel Investing
Before the pandemic, people were very sceptical of investing in a business, unless they had met the founder in person multiple times. That has now changed. To begin with, today investors are far more comfortable meeting founders online. This has skewed the decision-making process to rely more on quantifiable parameters. Bringing into focus, even more sharply the process of due diligence. Investors no longer go by just the growth projections; they want to assess long term sustainability and are turning a keen eye towards the cash flows and unit economics of a business, before investing in it.
Reimagining The Role of Investors
With the start-up ecosystem evolving, the role of investors is transforming too. They are no longer just passive investors.  Early-stage entrepreneurs now seek advice on scaling up, going global, etc. from their investors. From being value extractors, investors are growing to become value creators.
Investors today are taking an active role in complementing the founders' efforts and are helping them build the other aspects of business as well. Mentoring them and offering them networking support to build teams, solve problems and even drive growth for the start-ups they are investing in.
Investors are giving founders access to their networks to help them solve their business problems by connecting them with other business heads and owners who have overcome similar challenges.
They are also leveraging their networks to hire the right talent and bring in co-founders to help build and scale the organisation, thereby creating value even for themselves. Typically, one in 5 start-ups needs a Co-founder and there is a huge gap there in terms of being able to identify and headhunt for these roles, and investors are playing a critical role in closing that gap by offering support.
Investors are also tapping into their networks to connect the start-ups with businesses that would benefit from their products or services, driving sales growth and revenue for the start-up.
Founders typically come with deep domain knowledge but are not necessarily always equipped with the skills to lead. Investors could therefore go beyond just helping them on their pitches, to mentoring them and honing their leadership and communication capabilities.
Last, but not the least, even if a start-up fails, investors should continue to support the founders. They should continue to invest in ideas and back passionate founders in bringing their ideas to fruition.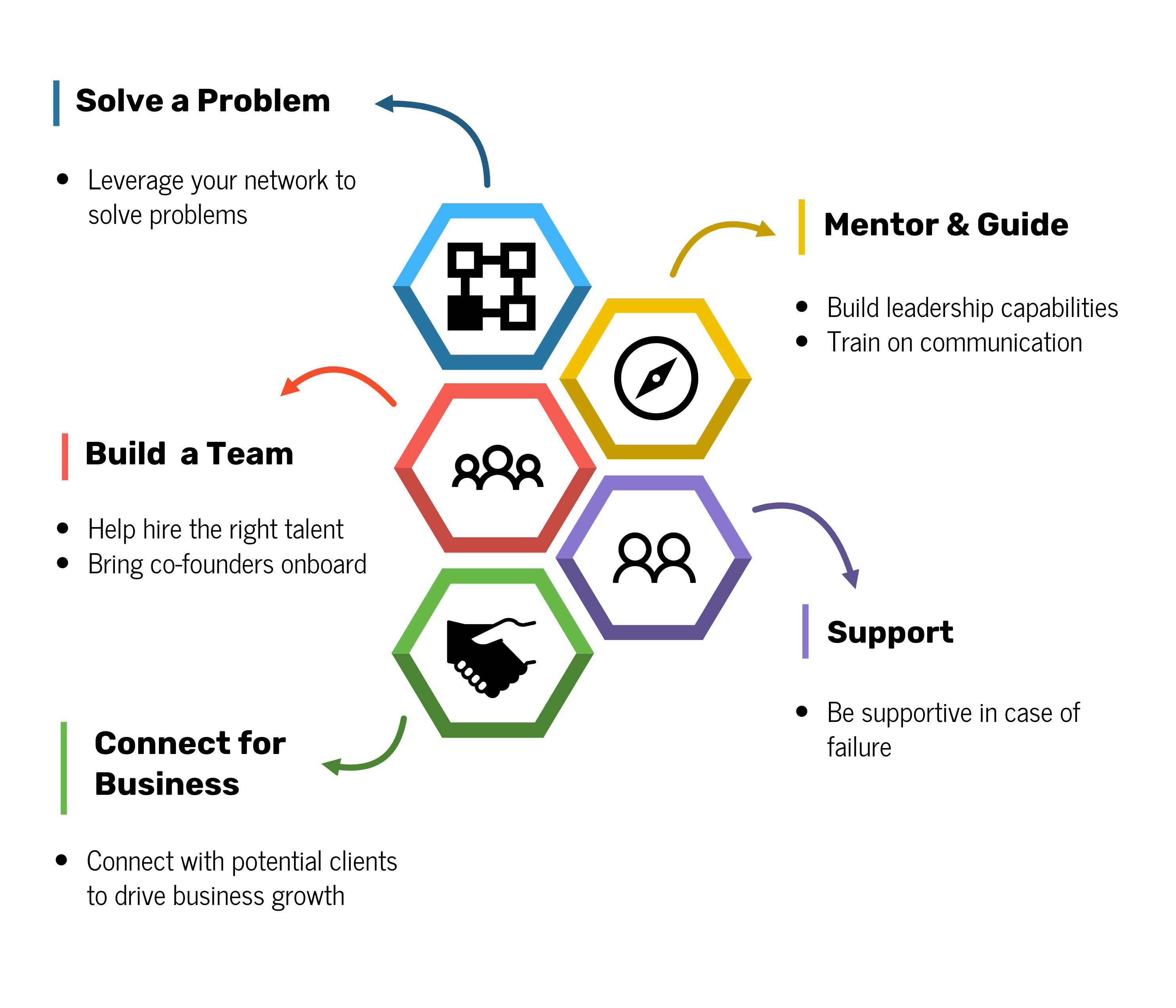 Responsibilities of Founders
First and foremost, when looking for investors, founders should reach out to people they admire, trust, and want to work with. They should look for investors who can help add value to their start-up in the long run.
Secondly, they should not lose sight of the long-term sustainability of their business. They should stay focussed, not just in terms of - not diversifying or pivoting too early in their business but also when it comes to negotiating funding. If it is cash that they need to get their business up and running, they should focus on that in their deal. Let the cash come in, even if it is, at a lower valuation because it is important to survive before you thrive. Founders should look at having investors who can help them with more than capital.
Passionate founders looking to solve real problems do far better than those just looking to exploit an opportunity. So, the one key insight for investors to be cognizant of is that they should invest in founders who show conviction. They should invest in strong business models and should invest even when the general funding sentiment might not be encouraging. For as Warren Buffett said, 'When there is fear, be greedy'. Great Investors will recognise an opportunity, even in challenging times, and will invest when others are being fearful.