{ "page": { "pageInfo": { "pageType": "program" }, "components": [], "section": "sites:cee:en:individual-programmes:topic-focused-programmes:programs:accelerating-digital-transformation-healthcare", "pageName": "Accelerating Digital Transformation in Healthcare" }, "events": [], "form": [], "search": {}, "file": [], "user": [], "error": [] }
{ "salesforceUrl":"https://webto.salesforce.com/servlet/servlet.WebToLead?encoding=UTF-8" , "solrUrl":"https://www.isb.edu/solr/university" , "initialRouteUrl":"https://hrm.exchange.isb.edu/ProdAEMEvents/Articles" , "siteName":"cee" , "serverDownMessage":"Internal server error, please try again after some time" }
[{"value":"utm_source","text":"00N0I00000KT1fD"},{"value":"utm_medium","text":"00N0I00000KT1fI"},{"value":"campaignname","text":"00N0I00000KT1fN"},{"value":"uterm","text":"00N0I00000KT1fS"},{"value":"adgroupname","text":"00N0I00000KT1md"},{"value":"keyword","text":"00N0I00000KT1mx"},{"value":"creative","text":"00N0I00000KT1nR"},{"value":"devicemodel","text":"00N0I00000KT1ng"},{"value":"placement","text":"00N0I00000KT1nq"},{"value":"target","text":"00N0I00000KT1ot"},{"value":"device","text":"00N0I00000KT1o0"},{"value":"network","text":"00N0I00000KT1o5"},{"value":"matchtype","text":"00N0I00000KT1oA"},{"value":"gclid","text":"00N0I00000KT1oF"},{"value":"campaignname","text":"00N0I00000KT1nM"},{"value":"term","text":"00N0I00000KT1n7"}]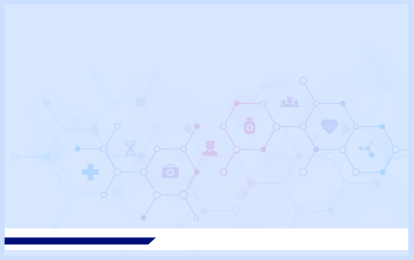 Define a new paradigm in healthcare delivery
Accelerating Digital Transformation in Healthcare
Accelerating Digital Transformation in Healthcare
Summary
Emerging technology and digital business models are reshaping healthcare delivery in the post-pandemic world. Smart hospitals and health tech companies are innovating to create newer care delivery models to improve care quality while delivering a superior user experience. 'Virtual' hospitals and online healthcare marketplaces are building trust with customers by offering convenient and on-demand services. These new-age digital natives are eroding the traditional healthcare organisations' market share and have irrevocably changed the industry's competitive landscape.
Accelerating Digital Transformation in Healthcare, jointly offered by ISB Executive Education and the Max Institute of Healthcare Management, is designed for healthcare leaders who would like to adapt to these radical changes in the healthcare business and leverage digital technology to create a renewed value proposition for their service offering while keeping its users at the core.
Key Takeaways
Gain skills to become a digitally-savvy leader with the agility to respond strategically to opportunities and competition.
Develop technology management and leadership competencies to enable digital transformation across the different facets of your organisation.
Effortlessly add digital solutions to a bouquet of solutions.
Positively impact your key business performance indicators.
Who Should Attend
Top executives and owner-managers of corporate and mid to small-sized hospitals looking to modify and adapt their business model to the fast-evolving digital ecosystem in healthcare.
Experienced senior clinicians, heads of departments and healthcare IT professionals looking to evaluate and implement digital solutions in their areas of influence or are part of enterprise-level digital transformation and technology implementation initiatives
Product managers and Techno-Commercial managers who are building a healthcare technology solution or are adapting their existing product to the healthcare industry
Healthtech entrepreneurs and professionals who are developing innovative products for the healthcare delivery ecosystem and are looking to scale up their product adoption
Professionals from allied healthcare sectors
Learning Experience
ISB Executive Education programmes are replete with distinctive teaching methodologies and an intense and challenging learning environment that pushes participants' learning horizons beyond their pre-existing beliefs. Through lectures from distinguished faculty, local and global case studies, business simulations, and group discussions with extraordinary peers from a broad range of industries, regions, and functions, you will be equipped with the strategies, tools and insights required to transform your thinking and achieve ambitious business objectives. You will return to your organisation, fully ready to apply what you have learned. You will also take with you a rich network of relationships that will enrich your personal and professional lives long after you complete the programme.
This programme will be held on campus.

Experience learning in state-of-the-art classrooms and campus facilities designed to create an environment conducive to sparking self-reflection, innovation, and collaboration.
Admission Criteria and Selection
We admit candidates to upcoming sessions on a rolling (first come first served), space-available basis, and encourage you to apply as early as possible to secure your seat in the programme. 

Programme content, dates, schedule, fees, delivery platforms, and faculty are subject to change. Programme fee includes food and accommodation at the ISB campus or at an equivalent facility based on availability.
What You Will Learn
Aligning digital strategy with business and clinical outcomes
Using design thinking as a problem-solving tool
Leveraging digital for operational excellence and continuous improvement
Devising technology-led business models in healthcare
Bringing about mindset change in clinical and administrative leadership for digital transformation
Module 1: Healthcare Paradigm and Linkage to Business Strategy
Understanding the drivers and barriers of digital innovation in the healthcare ecosystem
The emergence of new technologies and their impact on various stakeholders
Devising a digital transformation strategy that is aligned with the healthcare organisation's competitive strategy
Balancing the portfolio of digital interventions across clinical vs. non-clinical domains, focused on top-line vs. bottom-line performance
Role of the policy environment, e.g., Ayushman Bharat Digital Mission
Module 2: Design Thinking for Innovation
Understanding design thinking to create human-centered digital interventions in healthcare
Using design thinking to design processes that enhance user experience
Crafting an innovative digital transformation design
Module 3: Executing a Successful Transformation and Continuous Improvement
Assessing process maturity and readiness for digitisation
Under taking cost-benefit analysis to compare digital vs. non-digital solutions
Integrating digital transformation with operational excellence and continuous improvement
Module 4: Healthcare Business Model Innovation Leveraging Tech
Leapfrogging from traditional to technology-led models in healthcare
Linkages of digital strategy to platform strategy of a healthcare organisation
Identifying new competitors and forging new partnerships powered by digital technology
Module 5: Leading Change in a Digital Era
Understanding leadership challenges in driving healthcare digital transformation
Bringing about a growth mindset for enabling digital transformation in healthcare
Change management approaches for implementing digital transformation in healthcare
ISB faculty includes leading academics with credentials and teaching experience from top global business schools as well as accomplished practitioners who have managed large enterprises.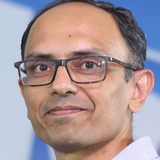 Sarang Deo
Professor and Area Leader, Operations Management Executive Director-Max Institute of Healthcare Management (MIHM)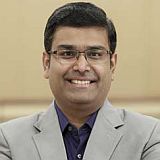 Vijaya Sunder M
Assistant Professor (Practice), Operations Management Walter E. Masing Thought Leader in Quality Management ASQ Crosby Medal Recipient Faculty British American Tobacco (BAT) Research Fellow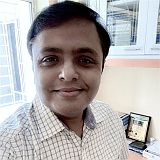 Dr. Sujoy Kar
Chief Medical Information Officer & Vice President Apollo Hospitals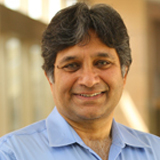 Ram Nidumolu
Professor (Practice), Organisational Behaviour
ISB Certificate
After successful completion of this programme, you will be awarded an ISB Executive Education Certificate, formal recognition of your professional development.
ISB Executive Network
On successful completion of this programme, you will be a part of the ISB Executive Network, a vast community of senior executives and entrepreneurs across the globe.
The benefits of the ISB Executive Network include:
Access to ISB Executive Network LinkedIn Group
Access to support e-mail ID
10% discount on open executive education programmes
Newsletters
Learn More
Thank you for submitting your details. You will receive the brochure on your email shortly.
Do you need help in identifying the right programme for you?
Get in touch with our Programme Advisors:
You can also call us on our Toll-free number 1800-309-0410 for any queries.