{ "page": { "pageInfo": { "pageType": "program" }, "components": [], "section": "sites:cee:en:individual-programmes:topic-focused-programmes:programs:business-storytelling-executive-presence", "pageName": "Business Storytelling and Executive Presence" }, "events": [], "form": [], "search": {}, "file": [], "user": [], "error": [] }
{ "salesforceUrl":"https://webto.salesforce.com/servlet/servlet.WebToLead?encoding=UTF-8" , "solrUrl":"https://www.isb.edu/solr/university" , "initialRouteUrl":"https://hrm.exchange.isb.edu/ProdAEMEvents/Articles" , "siteName":"cee" , "serverDownMessage":"Internal server error, please try again after some time" }
[{"value":"utm_source","text":"00N0I00000KT1fD"},{"value":"utm_medium","text":"00N0I00000KT1fI"},{"value":"campaignname","text":"00N0I00000KT1fN"},{"value":"uterm","text":"00N0I00000KT1fS"},{"value":"adgroupname","text":"00N0I00000KT1md"},{"value":"keyword","text":"00N0I00000KT1mx"},{"value":"creative","text":"00N0I00000KT1nR"},{"value":"devicemodel","text":"00N0I00000KT1ng"},{"value":"placement","text":"00N0I00000KT1nq"},{"value":"target","text":"00N0I00000KT1ot"},{"value":"device","text":"00N0I00000KT1o0"},{"value":"network","text":"00N0I00000KT1o5"},{"value":"matchtype","text":"00N0I00000KT1oA"},{"value":"gclid","text":"00N0I00000KT1oF"},{"value":"campaignname","text":"00N0I00000KT1nM"},{"value":"term","text":"00N0I00000KT1n7"}]
Summary
Great storytelling is in practical terms a prerequisite for great leadership today. The greatest leaders of our time, from Steve Jobs, to Bill Gates, to Ratan Tata have all displayed extraordinary skill at owning both their personal and their business' narratives. These leaders all have one trait in common – the ability to galvanise their workforce into swift, meaningful action that delivers impactful outcomes.
A common misconception about executive presence and storytelling skills is that these are innately mysterious abilities that you are born with. The truth is that these are both eminently learnable skills that business leaders can train themselves to become better at by identifying areas of strength and weakness, and working to improve on them persistently.
This intensive 2-day programme will debunk the common myths around executive presence. You will learn to acquire invaluable skills that are often misconstrued as personality traits. The programme will also show you that the critical combination of business storytelling and executive presence is key to inspiring confidence, motivating commitment, and enabling agency in others.
Key Takeaways
Through faculty presentations and group activities, you will learn to build a lasting executive presence through impactful storytelling:
Say more with less: Mastering the art of the elevator pitch - how to compress your story yet make it impactful
Great ways to begin: Well begun is half done - learn some of the best ways to begin your story
Structure, Structure, Structure: We all know what we want to say - learn how to structure your stories better and make them impactful
Articulate Your Value Proposition: It is not what we say but also how we say it that makes all the difference
Data Storytelling Techniques: Learn how to weave numbers into a narrative
Executive Presence & Voice: Your presence makes an impression even before you speak - understand the elements of virtual presence
Pitching an idea/ story/ programme: Learn how to pitch a new idea/product to internal or external stakeholders
Virtual Storytelling Hacks: Unlock unique ways to tell a story on Zoom
Build a Bank of Stories: Expand the repertoire of your stories so that you have one ready for any situation
Who Should Attend
The programme has been designed to benefit both novice and experienced speakers. Senior executives and functional leaders from across industries and functions responsible for public speaking, and delivering presentations, both internally and externally will benefit from attending this programme.
Ideal Candidates Include:
Leaders, Directors, Vice Presidents • Startup founders • HR Managers, L&D Heads, R&D leads, Innovators, Brand Managers.
Learning Experience
ISB Executive Education programmes are replete with distinctive teaching methodologies and an intense and challenging learning environment that pushes participants' learning horizons beyond their pre-existing beliefs. Through lectures from distinguished faculty, local and global case studies, business simulations, and group discussions with extraordinary peers from a broad range of industries, regions, and functions, you will be equipped with the strategies, tools and insights required to transform your thinking and achieve ambitious business objectives. You will return to your organisation, fully ready to apply what you have learned. You will also take with you a rich network of relationships that will enrich your personal and professional lives long after you complete the programme.
Experience learning in state-of-the-art classrooms and campus facilities designed to create an environment conducive to spark self-reflection, innovation, and collaboration.

Admission Criteria and Selection
We admit candidates to upcoming sessions on a rolling (first come first served), space-available basis, and encourage you to apply as early as possible to secure your seat in the programme.

Programme content, dates, schedule, fees, delivery platforms, and faculty are subject to change. Programme fee includes food and accommodation at the ISB campus or at an equivalent facility based on availability.
Programme Curriculum
The programme spans two days of highly interactive, learning-by-doing and group- work-based activities that help you take your storytelling to the next level.
Baseline and expectation setting
How to Prepare Your Story
Telling Stories Using Numbers and Data
7 Great ways to open your presentation and a framework to craft your business narrative
Building Your Bank Of Stories - Telling Your Story
The Story of Your Work Group Exercise
Presence, Voice Modulation, Body Language Stories of Technology, Business, and Innovation
Stories Leaders Tell - Stories, Q&A, and Feedback
Programme Closure
Faculty
ISB faculty includes leading academics with credentials and teaching experience from top global business schools as well as accomplished practitioners who have managed large enterprises.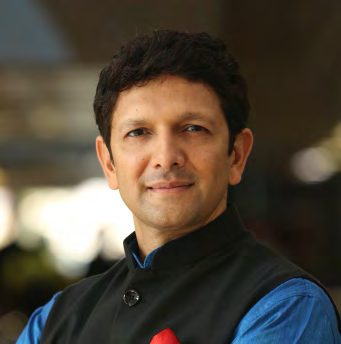 Mihir Mankad
Professor of Practice in Leadership Communication at Tufts University Fletcher and Friedman Schools
ISB Certificate
After successful completion of this programme, you will be awarded an ISB Executive Education Certificate, formal recognition of your professional development.
ISB Executive Network
On successful completion of this programme, you will be a part of the ISB Executive Network, a vast community of senior executives and entrepreneurs across the globe.
The benefits of the ISB Executive Network include:
Access to ISB Executive Network LinkedIn Group
Access to support e-mail ID
10% discount on open executive education programmes
Newsletters
or Call us Toll-free on 1800-309-0410