{ "page": { "pageInfo": { "pageType": "program" }, "components": [], "section": "sites:cee:en:individual-programmes:topic-focused-programmes:programs:designing-firms-competitive-advantage", "pageName": "Designing Firms for Competitive Advantage" }, "events": [], "form": [], "search": {}, "file": [], "user": [], "error": [] }
{ "salesforceUrl":"https://webto.salesforce.com/servlet/servlet.WebToLead?encoding=UTF-8" , "solrUrl":"https://www.isb.edu/solr/university" , "initialRouteUrl":"https://hrm.exchange.isb.edu/ProdAEMEvents/Articles" , "siteName":"cee" , "serverDownMessage":"Internal server error, please try again after some time" }
[{"value":"utm_source","text":"00N0I00000KT1fD"},{"value":"utm_medium","text":"00N0I00000KT1fI"},{"value":"campaignname","text":"00N0I00000KT1fN"},{"value":"uterm","text":"00N0I00000KT1fS"},{"value":"adgroupname","text":"00N0I00000KT1md"},{"value":"keyword","text":"00N0I00000KT1mx"},{"value":"creative","text":"00N0I00000KT1nR"},{"value":"devicemodel","text":"00N0I00000KT1ng"},{"value":"placement","text":"00N0I00000KT1nq"},{"value":"target","text":"00N0I00000KT1ot"},{"value":"device","text":"00N0I00000KT1o0"},{"value":"network","text":"00N0I00000KT1o5"},{"value":"matchtype","text":"00N0I00000KT1oA"},{"value":"gclid","text":"00N0I00000KT1oF"},{"value":"campaignname","text":"00N0I00000KT1nM"},{"value":"term","text":"00N0I00000KT1n7"}]
Overview
Curriculum
Faculty
Executive Benefits
Summary
In today's rapidly changing business environment, firms that can (re)design most effectively will be the ones to gain a competitive advantage in the marketplace.
The accelerating pace of disruptions across industries has left most companies in a state of organisational flux. Many times, firms are compelled to pivot organisational structures to deliver the expected outcomes but are faced with disappointment when objectives and performance standards are not met.
The Designing Firms for Competitive Advantage programme will help senior executives improve the odds of organisational redesign success that pays off in the form of increased employee performance, effective decision making, and increased profitability.
Key Takeaways
Understand the key elements of organisation design including optimal division of labour and integration of effort given the task structure in an organisation
Learn the basic framework to solve for the various design challenges across each of the design elements
Delve into the micro and macro approaches of organisational design
Differentiate between the formal design of the organisation and the emergence of the informal design, and how the two interact with each other
Recognise that the organisation design is a function of the firm's age, size, maturity, and environmental context and be well-prepared for re-organisation efforts
Familiarise yourself with a first principles approach to designing the optimal hierarchical structure for a product team and what hierarchy means for new organisational forms such as "flat organisations" or "holacracies"
Get introduced to how organisation design is being transformed with the emergence of technology such as machine learning and artificial intelligence
Explore best practices of how you can align people, processes, structure, and culture to deliver value
Learn how to identify appropriate organisation designs that align with your business goals
Gain an understanding of designing workspaces for the future
Who Should Attend
The programme has been specially curated for senior-level managers with more than 15 years of experience who are leading large business units or heading functional verticals. Additionally, company owners, start-up founders and entrepreneurs will benefit from the programme.
Learning Experience
ISB Executive Education programmes are replete with distinctive teaching methodologies and an intense and challenging learning environment that pushes participants' learning horizons beyond their pre-existing beliefs. Through lectures from distinguished faculty, local and global case studies, business simulations, and group discussions with extraordinary peers from a broad range of industries, regions, and functions, you will be equipped with the strategies, tools and insights required to transform your thinking and achieve ambitious business objectives. You will return to your organisation, fully ready to apply what you have learned. You will also take with you a rich network of relationships that will enrich your personal and professional lives long after you complete the programme.
This programme will be delivered on campus.

Experience learning in state-of-the-art classrooms and campus facilities designed to create an environment conducive to sparking self-reflection, innovation, and collaboration.

Admission Criteria and Selection
We admit candidates to upcoming sessions on a rolling, space-available basis, and encourage you to apply as early as possible to secure your seat in the programme. 

Programme content, dates, schedule, fees, delivery platforms, and faculty are subject to change. Programme fee includes food and accommodation at the ISB campus or at an equivalent facility based on availability.
The programme spans two days of exploratory sessions to explore the nuances of organisation design and ways to implement it.
Module 1: Organisation Design – The "What" and "Why"
· What is Organisation Design?
o   Introduction to key elements of organisation design including the fundamental concepts of division of labour and integration of effort
o   Framework for solving design challenges across the key elements of organisation design
· The Macro-structural approach to Organisation Design
o   Linkage between Corporate Strategy and Organisation Design
o   How the nature of business (model) and resources determine the optimal organisational structure that connects different business divisions or units to one another, and to the corporate headquarter
o   Introduction to various organisational forms: the M-form, F-form, Hybrid
· The Micro-structural approach to Organisation Design
o   How to determine the optimal spans and layers within a business unit
o   Understanding the role of hierarchy in design and how hierarchy evolves within an organisation
o   How to design for "Agile" systems and "holacracies"
Module 2: Design 2.0 – The "Where to?"
· The "Formal" and the "Informal" organisation
o   The difference between the formal design of the organisation and the emergence of the informal design, and how the two interact with each other
o   The role and importance of the informal organisation particularly in triggering exploratory strategies
· Organisation Design and Algorithms
o   What is an algorithm-based approach to organisational design?
o   How machine learning (ML) and artificial intelligence (AI) are both influencing design and solving for conventional design-related problems
· Designing the Hybrid workspace
o   Re-looking at the coordination and cooperation problem in the context of hybrid work given the rapid transition to hybrid work post the pandemic
ISB Executive Education programmes are conceptualised and taught by globally renowned faculty who are leading academicians, researchers, and accomplished industry practitioners. Through their advanced research and industry consulting experience, you will learn real-world skills that will help you solve complex business challenges in your organisation.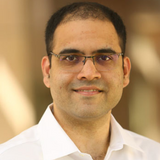 Prothit Sen
Assistant Professor, Strategy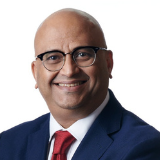 Himanshu Tambe
Visiting Faculty, Chief Revenue Officer for the Singapore Institute of Management (SIM)
ISB Certificate
After successful completion of this programme, you will be awarded an ISB Executive Education Certificate, formal recognition of your professional development.
ISB Executive Network
On successful completion of this programme, you will be a part of the ISB Executive Network, a vast community of senior executives and entrepreneurs across the globe.
The benefits of the ISB Executive Network include:
Access to ISB Executive Network LinkedIn Group
Access to support e-mail ID
10% discount on open executive education programmes
Newsletters
Want to know more about this programme?
or Call us Toll-free on 1800-309-0410