{ "page": { "pageInfo": { "pageType": "program" }, "components": [], "section": "sites:cee:en:individual-programmes:topic-focused-programmes:programs:managing-sales-teams-distribution-channels", "pageName": "Managing Sales Teams and Distribution Channels" }, "events": [], "form": [], "search": {}, "file": [], "user": [], "error": [] }
{ "salesforceUrl":"https://webto.salesforce.com/servlet/servlet.WebToLead?encoding=UTF-8" , "solrUrl":"https://www.isb.edu/solr/university" , "initialRouteUrl":"https://hrm.exchange.isb.edu/ProdAEMEvents/Articles" , "siteName":"cee" , "serverDownMessage":"Internal server error, please try again after some time" }
[{"value":"utm_source","text":"00N0I00000KT1fD"},{"value":"utm_medium","text":"00N0I00000KT1fI"},{"value":"campaignname","text":"00N0I00000KT1fN"},{"value":"uterm","text":"00N0I00000KT1fS"},{"value":"adgroupname","text":"00N0I00000KT1md"},{"value":"keyword","text":"00N0I00000KT1mx"},{"value":"creative","text":"00N0I00000KT1nR"},{"value":"devicemodel","text":"00N0I00000KT1ng"},{"value":"placement","text":"00N0I00000KT1nq"},{"value":"target","text":"00N0I00000KT1ot"},{"value":"device","text":"00N0I00000KT1o0"},{"value":"network","text":"00N0I00000KT1o5"},{"value":"matchtype","text":"00N0I00000KT1oA"},{"value":"gclid","text":"00N0I00000KT1oF"},{"value":"campaignname","text":"00N0I00000KT1nM"},{"value":"term","text":"00N0I00000KT1n7"}]
Summary
To sustain competitive advantage, customer sales and distribution channel management in any organisation require an ambidextrous approach. Sales leaders must focus on serving existing relationships and navigating new and emerging distribution avenues to keep up with the market demands.
Whether to sell directly to a customer, or retailer, through a distribution network or enabling the salesforce with the right combination of sales strategies, sales leaders need to detect ways
to control the cost of sales, identify growth opportunities and align resources against them.
The Managing Sales Teams and Distribution Channels programme will help sales leaders decode the sales process, provide actionable insights on managing and compensating the salesforce and
roll out an effective customer-centric distribution strategy to suit the needs of your business.
Key Takeaways
Understand the process of creating a customer-centric distribution strategy
Explore behavioral economics perspectives to control the cost of sales
Identify the new value stacks for customers to deliver novel benefits
Deep dive into the stakeholder mapping for a competitive sale strategy
Who Should Attend
The programme has been specially curated for:
Regional sales and channel managers, key account managers directly responsible for revenue generation and for managing high-performing sales teams.
Mid to senior-level managers directly responsible for their organisation's business and go-to-market strategy.
Company owners, start-up executives, and entrepreneurs responsible for stakeholder mapping and constructing competitive sales strategy.
Marketing and operations managers who directly or indirectly manage revenues and channel partners.
Learning Experience
ISB Executive Education programmes are replete with distinctive teaching methodologies and an intense and challenging learning environment that pushes participants' learning horizons beyond their pre-existing beliefs. Through lectures from distinguished faculty, local and global case studies, business simulations, and group discussions with extraordinary peers from a broad range of industries, regions, and functions, you will be equipped with the strategies, tools and insights required to transform your thinking and achieve ambitious business objectives. You will return to your organisation, fully ready to apply what you have learned. You will also take with you a rich network of relationships that will enrich your personal and professional lives long after you complete the programme.
Experience learning in state-of-the-art classrooms and campus facilities designed to create an environment conducive to sparking self-reflection, innovation, and collaboration.
Admission Criteria and Selection
We admit candidates to upcoming sessions on a rolling, space-available basis, and encourage you to apply as early as possible to secure your seat in the programme. 

Programme content, dates, schedule, fees, delivery platforms, and faculty are subject to change. Programme fee includes food and accommodation at the ISB campus or at an equivalent facility based on availability.
Programme Curriculum
The programme spans 3 days of highly interactive sessions to explore the dynamics of sales and distribution channel management in a rapidly evolving consumer-driven world.
Module 1: Customer-Centric Frontlines
Understand the concept of echoverse and learn how to construct a customer-centric distribution strategy
Learn the behavioral economics perspectives to enhance profits by controlling the cost of sales.
Gain insights on new value stacks for customers to deliver new benefits.
Module 2: Managing and Motivating the Salesforce
Understand the concept of feeling economy and learn how stakeholder mapping can give you a competitive advantage.
Learn novel ways to compensate and motivate salespeople.
Explore the various methods and best practices for sales enablement.
Module 3: Ambidextrous Sales Organisations
Identify and handle deterrents to sales and distribution alignment.
Learn how to embrace 'change' without dismantling the previous
model of a high growth organisation
Put theory into action
Faculty
ISB Executive Education programmes are conceptualised and taught by globally renowned faculty who are leading academicians, researchers, and accomplished industry practitioners. Through their advanced research and industry consulting experience, you will learn real-world skills that will help you solve complex business challenges in your organisation.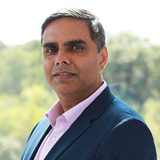 Raj Agnihotri
Visiting Faculty, ISB; Mary Warner Fellow and Founding Director of the Ivy Sales Forum, Iowa State University
ISB Certificate
After successful completion of this programme, you will be awarded an ISB Executive Education Certificate, formal recognition of your professional development.
ISB Executive Network
On successful completion of this programme, you will be a part of the ISB Executive Network, a vast community of senior executives and entrepreneurs across the globe.
The benefits of the ISB Executive Network include:
Access to ISB Executive Network LinkedIn Group
Access to support e-mail ID
10% discount on open executive education programmes
Newsletters
or Call us Toll-free on 1800-309-0410