{ "page": { "pageInfo": { "pageType": "genericPage" }, "components": [], "section": "sites:cee:en:individual-programmes:topic-focused-programmes:programs:marketing-analytics-growth", "pageName": "Marketing Analytics for Growth" }, "events": [], "form": [], "search": {}, "file": [], "user": [], "error": [] }
{ "salesforceUrl":"https://webto.salesforce.com/servlet/servlet.WebToLead?encoding=UTF-8" , "solrUrl":"https://www.isb.edu/solr/university" , "initialRouteUrl":"https://hrm.exchange.isb.edu/ProdAEMEvents/Articles" , "siteName":"cee" , "serverDownMessage":"Internal server error, please try again after some time" }
[{"value":"utm_source","text":"00N0I00000KT1fD"},{"value":"utm_medium","text":"00N0I00000KT1fI"},{"value":"campaignname","text":"00N0I00000KT1fN"},{"value":"uterm","text":"00N0I00000KT1fS"},{"value":"adgroupname","text":"00N0I00000KT1md"},{"value":"keyword","text":"00N0I00000KT1mx"},{"value":"creative","text":"00N0I00000KT1nR"},{"value":"devicemodel","text":"00N0I00000KT1ng"},{"value":"placement","text":"00N0I00000KT1nq"},{"value":"target","text":"00N0I00000KT1ot"},{"value":"device","text":"00N0I00000KT1o0"},{"value":"network","text":"00N0I00000KT1o5"},{"value":"matchtype","text":"00N0I00000KT1oA"},{"value":"gclid","text":"00N0I00000KT1oF"},{"value":"campaignname","text":"00N0I00000KT1nM"},{"value":"term","text":"00N0I00000KT1n7"}]
Summary
Data is fundamentally reshaping how businesses operate. Analysing the vast amounts of data available to us, to draw meaningful business insights is becoming increasingly pertinent to gain, and sustain organisational efficiencies and competitive advantage.
Key Takeaways
Unlock extraordinary value for your business. Learn to break the 'enigma barrier' that new technologies like analytics pose. Understand the link between marketing strategy, and data. From learning exploratory models in business analytics to understanding customer preferences through text analytics, Marketing Analytics for Growth will give you the tools to drive growth for your organisation through informed decision making. 

Who Should Attend
This programme is designed for CMOs, senior business leaders and functional heads who want to gain a deeper understanding of the interface between marketing strategy and business analytics. 
Learning Experience
ISB Executive Education programmes are replete with distinctive teaching methodologies and an intense and challenging learning environment that pushes participants' learning horizons beyond their pre-existing beliefs. Through lectures from distinguished faculty, local and global case studies, business simulations, and group discussions with extraordinary peers from a broad range of industries, regions, and functions, you will be equipped with the strategies, tools and insights required to transform your thinking and achieve ambitious business objectives. You will return to your organisation, fully ready to apply what you have learned. You will also take with you a rich network of relationships that will enrich your personal and professional lives long after you complete the programme.
This programme will be held on campus.

Experience learning in state-of-the-art classrooms and campus facilities designed to create an environment conducive to sparking self-reflection, innovation, and collaboration.

Admission Criteria and Selection
We admit candidates to upcoming sessions on a rolling (first come first served), space-available basis, and encourage you to apply as early as possible to secure your seat in the programme. 

Programme content, dates, schedule, fees, delivery platforms, and faculty are subject to change. Programme fee includes food and accommodation at the ISB campus or at an equivalent facility based on availability.
What You Will Learn
Understand the impact of business analytics and machine learning 
Explore and understand traditional and contemporary methods of market research 
Learn to understand data and apply strategies and proven models to predict outcomes
Practise data-driven market segmentation and  targeting
Master text and sentiment analysis techniques to gain insights into consumer behaviour
Learn how to test and improve returns using state-of-the-art experimentation methods
Module 1: Introduction to Analytics Exploratory Models in Business Analytics
Definitional Preliminaries on:

Data, analytics, and problem formulation in an analytics setting
The link between the data-driven approach and better decision-making
An introduction to model typologies, proven models, tools, and techniques with a combination of

Traditional primary data collection for marketing research

Newer secondary data sources, namely enterprise data capture, and syndicated databases.
Module 2: Predicting metric and non-metric outcomes using Supervised Learning Models
Understand how the data-driven approach and use of the right analytics can allow firms to make better decisions. You will learn which variables are influencing the outcome and how they are related to the dependent variable of interest.
Use regression for predicting metric outcomes
Understand logit regression for non-metric outcomes
Module 3: Segmentation and Targeting using Unsupervised Learning Models
Segmentation and targeting are considered the most important strategic decision for a business. In this module, we will learn the data-driven approaches for segmenting the market and identifying the segments for targeting purposes.
Learn cluster analysis
Understand classification analysis 
Module 4: Understanding Customer Preferences using Text Analytics
An introduction to Business Analytics tools for unstructured data - e.g. text and network analytics in problem-solving and decision making.
 Tools for elementary text analytics

 Tools for sentiment analysis
 Factorisation and clustering over text data
Module 5: Experimentation and Causal Inferences, Understanding Good and Bad Business Analytics
In this module, we will learn what is good analytics? What kind of data is needed for causal inferences and prescriptive analytics?
A/B experimentation

Causal inferences for decision making
Module 6: Project Presentations and Programme Wrap-up
Participants will identify a business problem in their context and using tools learned during the workshop prepare a presentation on how they can make improve decision making using analytics.
ISB faculty includes leading academics with credentials and teaching experience from top global business schools as well as accomplished practitioners who have managed large enterprises.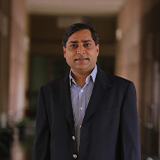 Manish Gangwar
Associate Professor, Marketing Executive Director- IIDS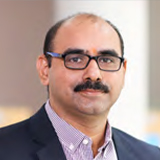 Sudhir Voleti
Associate Dean - LRC & Faculty Alignment and Academic Director – IIDS
ISB Certificate
After successful completion of this programme, you will be awarded an ISB Executive Education Certificate, formal recognition of your professional development.
ISB Executive Network
As a part of the ISB Executive Network, you will gain access to a vast community of executives from across the globe.  
The privileges of this exclusive community include:

ISB Executive Network LinkedIn Group

Newsletters
Access to ISB Executive Education Support
10% discount on open executive education programmes
Do you need help in identifying the right programme for you?
Get in touch with our Programme Advisors:
You can also call us on our Toll-free number 1800-309-0410 for any queries.