{ "page": { "pageInfo": { "pageType": "program" }, "components": [], "section": "sites:cee:en:individual-programmes:topic-focused-programmes:programs:mastering-negotiation-influence", "pageName": "Mastering Negotiation and Influence" }, "events": [], "form": [], "search": {}, "file": [], "user": [], "error": [] }
{ "salesforceUrl":"https://webto.salesforce.com/servlet/servlet.WebToLead?encoding=UTF-8" , "solrUrl":"https://www.isb.edu/solr/university" , "initialRouteUrl":"https://hrm.exchange.isb.edu/ProdAEMEvents/Articles" , "siteName":"cee" , "serverDownMessage":"Internal server error, please try again after some time" }
[{"value":"utm_source","text":"00N0I00000KT1fD"},{"value":"utm_medium","text":"00N0I00000KT1fI"},{"value":"campaignname","text":"00N0I00000KT1fN"},{"value":"uterm","text":"00N0I00000KT1fS"},{"value":"adgroupname","text":"00N0I00000KT1md"},{"value":"keyword","text":"00N0I00000KT1mx"},{"value":"creative","text":"00N0I00000KT1nR"},{"value":"devicemodel","text":"00N0I00000KT1ng"},{"value":"placement","text":"00N0I00000KT1nq"},{"value":"target","text":"00N0I00000KT1ot"},{"value":"device","text":"00N0I00000KT1o0"},{"value":"network","text":"00N0I00000KT1o5"},{"value":"matchtype","text":"00N0I00000KT1oA"},{"value":"gclid","text":"00N0I00000KT1oF"},{"value":"campaignname","text":"00N0I00000KT1nM"},{"value":"term","text":"00N0I00000KT1n7"}]
Summary
The art of negotiation is as old as humankind. We, as people, negotiate every day. We negotiate with current and potential employers, co-workers, subordinates, vendors, clients, bosses, merchants, service providers, and even with our friends and family. Yet, although people negotiate all the time, most know very little about the strategy and psychology of effective negotiations.
The Mastering Negotiation and Influence programme is designed to be relevant to a broad spectrum of negotiation problems that are faced by the manager and professionals. A basic premise of this programme is that while managers need analytical skills to develop optimal solutions to problems, they also require a broad array of negotiation skills for these solutions to be accepted and implemented.
Key Takeaways
Develop powerful and practical strategies to improve negotiation effectiveness in one-to-one, multi-party, and multi-issue negotiations
Reconsider your approach to negotiations - from competitive to collaborative, from win-lose to win-win, from winning-it-all to effective problem-solving
Learn and apply highly effective methods of influence and persuasion
Advance your knowledge on how to engage in reciprocal influence for mutual gain
Get up to speed with the latest research on negotiation analysis
Gain a wide range of perspectives by negotiating with your peers who are experienced business leaders from diverse backgrounds and geographies
Who Should Attend
This programme is suitable for mid-senior executives of all functions. Ideal profiles include:
Mid to senior-level executives who handle procurement, sales, key internal negotiations, and human resources, as well as for managers, investment bankers, consultants, lawyers and entrepreneurs
Mid to senior-level managers seeking to drive cross-functional teams toward a common goal
Senior executives and consultants who aim to negotiate the best deals with vendors, regulators, and partners and who want to deliver impact
Learning Experience
ISB Executive Education programmes are replete with distinctive teaching methodologies and an intense and challenging learning environment that pushes participants' learning horizons beyond their pre-existing beliefs. Through lectures from distinguished faculty, local and global case studies, business simulations, and group discussions with extraordinary peers from a broad range of industries, regions, and functions, you will be equipped with the strategies, tools and insights required to transform your thinking and achieve ambitious business objectives. You will return to your organisation, fully ready to apply what you have learned. You will also take with you a rich network of relationships that will enrich your personal and professional lives long after you complete the programme.
Experience learning in state-of-the-art classrooms and campus facilities designed to create an environment conducive to sparking self-reflection, innovation, and collaboration.

Admission Criteria and Selection
We admit candidates to upcoming sessions on a rolling (first come first served), space-available basis, and encourage you to apply as early as possible to secure your seat in the programme.
Programme content, dates, schedule, fees, delivery platforms, and faculty are subject to change. Programme fee includes food and accommodation at the ISB campus or at an equivalent facility based on availability.
Programme Curriculum
Through faculty presentations, case studies, and simulations, you will gain an in-depth understanding of how to implement effective negotiation strategies in a variety of real-world situations and craft outcomes that satisfies both negotiating parties. 
Module 1: Fundamentals of Negotiations
Debunk the myths surrounding negotiations
Learn to understand and appreciate the power of preparation
Realise the meaning and importance of fairness in negotiations
Module 2: Value-claiming Strategies
Simulate a negotiation deal with your peers
Explore when and how to make offers
Understand when and how to offer concessions
Module 3: Value-creating Strategies - I
Simulate a negotiation deal with your peers
Learn to appreciate the difference between positions and interests
Learn how to generate value when there is uncommon ground
Share experiences and learnings among your peers
Learn how to increase your influence in the workplace
Explore ways in which others can be influenced with or without authority
Module 5: Value-creating Strategies - II
Simulate a negotiation deal with your peers
Explore the importance and ways of gathering information
Learn how to cluster or separate issues in a negotiation deal
Identify ways to build trust to achieve favourable outcomes
Module 6: Advanced Negotiations
Simulate a negotiation deal with your peers
Apply the strategies of value-creation and value-claiming to multi-party, multi-issue negotiations
Learn to appreciate the value of knowing other party's interests
Collaborate with your peers and build an environment of shared experiences 
ISB Executive Education programmes are conceptualised and taught by globally renowned faculty who are leading academicians, researchers, and accomplished industry practitioners. Through their advanced research and industry consulting experience, you will learn real-world skills that will help you solve complex business challenges in your organisation.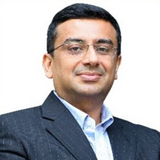 Abhijeet Vadera
Associate Professor of Organisational Behaviour and Human Resources, Lee Kong Chian School of Business, Singapore Management University (SMU), Visiting Faculty, ISB
ISB Certificate
After successful completion of this programme, you will be awarded an ISB Executive Education Certificate, formal recognition of your professional development.
ISB Executive Network
On successful completion of this programme, you will be a part of the ISB Executive Network, a vast community of senior executives and entrepreneurs across the globe.
The benefits of the ISB Executive Network include:
Access to ISB Executive Network LinkedIn Group
Access to support e-mail ID
10% discount on open executive education programmes
Newsletters
Participant Stories
Ravi Hemdev, Internal Audit Functions, PwC India
Ganesh Pareek, Partner, First December Films
Aditya Sri Kammula, Alliance Business Manager, Nutanix
Rahul Wadhwa, Sr. General Manager, HOD, Signature Global India Ltd
Tejas Baldev, Sales Director, Redis
Do you need help in identifying the right programme for you?
Get in touch with our Programme Advisors:
You can also call us on our Toll-free number 1800-309-0410 for any queries.