{ "page": { "pageInfo": { "pageType": "program" }, "components": [], "section": "sites:cee:en:individual-programmes:topic-focused-programmes:programs:modern-marketing-organisation", "pageName": "Modern Marketing Organisation" }, "events": [], "form": [], "search": {}, "file": [], "user": [], "error": [] }
{ "salesforceUrl":"https://webto.salesforce.com/servlet/servlet.WebToLead?encoding=UTF-8" , "solrUrl":"https://www.isb.edu/solr/university" , "initialRouteUrl":"https://hrm.exchange.isb.edu/ProdAEMEvents/Articles" , "siteName":"cee" , "serverDownMessage":"Internal server error, please try again after some time" }
[{"value":"utm_source","text":"00N0I00000KT1fD"},{"value":"utm_medium","text":"00N0I00000KT1fI"},{"value":"campaignname","text":"00N0I00000KT1fN"},{"value":"uterm","text":"00N0I00000KT1fS"},{"value":"adgroupname","text":"00N0I00000KT1md"},{"value":"keyword","text":"00N0I00000KT1mx"},{"value":"creative","text":"00N0I00000KT1nR"},{"value":"devicemodel","text":"00N0I00000KT1ng"},{"value":"placement","text":"00N0I00000KT1nq"},{"value":"target","text":"00N0I00000KT1ot"},{"value":"device","text":"00N0I00000KT1o0"},{"value":"network","text":"00N0I00000KT1o5"},{"value":"matchtype","text":"00N0I00000KT1oA"},{"value":"gclid","text":"00N0I00000KT1oF"},{"value":"campaignname","text":"00N0I00000KT1nM"},{"value":"term","text":"00N0I00000KT1n7"}]
Summary
In today's complex business environment, achieving customer centricity is a formidable challenge for enterprises and marketers. With the rise of the connected customer, the challenge has multiplied exponentially, increasing the touchpoints and channels that customers use to engage with brands. This challenge necessitates businesses to adopt data-driven customer centricity that pervades their organisations beyond the marketing realm.
The Modern Marketing Organisations programme by ISB Executive Education is designed to address these pressing challenges faced by business leaders. The programme's frameworks divide value creation into two categories: new value stacks for customers and new value stacks for enterprises. Understanding this taxonomy is the first step in articulating a marketing value proposition that aligns with the company's growth strategy. The programme helps customer-focused functions and enterprise leadership not only mitigate the effects of an ever-changing marketplace but also capitalise on opportunities that disruptions present.
Through practical case studies, faculty presentations, toolkits, and frameworks, participants in the programme gain a transformative understanding of go-to-market paradigms. The programme helps marketing teams become more agile, interdependent, and accountable for driving organisational growth. It enables participants to capitalise on new growth opportunities, understand value creation, and articulate marketing value propositions that align with their organisation's growth strategy. Ultimately, the Modern Marketing Organisation programme helps leaders transform their marketing functions to drive the bottom line and contribute to the growth story.
Key Takeaways
Explore steps for successful product development, structured go-to-market strategies, and value pricing
Gain unique marketing and customer insights across functional silos such as HR, Finance, Sales, R&D, service, and organisations
Develop strategies for new product introductions in pioneering markets and strategies for entering markets as a late entrant
Gain an understanding of volume growth and profit growth strategies for established and mature markets 
Explore strategies for market defense 
Adopt best practices in integrating marketing execution for a multi-dimensional plan 
Who Should Attend
CMO and VP's of marketing from large and medium-sized firms
Executives responsible for digitally transforming the marketing function
Sales, product, marketing directors/ managers from medium to large firms
Presidents and vice-presidents of smaller marketing firms
Business strategy managers who help craft market-oriented strategies
Managers who want to build or improve their skills related to developing new brands, managing, and growing existing brands, and/ or revitalising fading brands
Marketing and sales managers who want to sharpen their brand management skills
Senior executives from business, product, finance, operations, HR, technology teams who recognise the importance of branding for the company, and play a role in deciding GTM and budgets and want to be better grounded in the concepts and tools of brand management
Learning Experience
ISB Executive Education programmes are replete with distinctive teaching methodologies and an intense and challenging learning environment that pushes participants' learning horizons beyond their pre-existing beliefs. Through lectures from distinguished faculty, local and global case studies, business simulations, and group discussions with extraordinary peers from a broad range of industries, regions, and functions, you will be equipped with the strategies, tools and insights required to transform your thinking and achieve ambitious business objectives. You will return to your organisation, fully ready to apply what you have learned. You will also take with you a rich network of relationships that will enrich your personal and professional lives long after you complete the programme.
This programme will be held on campus.

Experience learning in state-of-the-art classrooms and campus facilities designed to create an environment conducive to sparking self-reflection, innovation, and collaboration.
Admission Criteria and Selection
We admit candidates to upcoming sessions on a rolling (first come first served), space-available basis, and encourage you to apply as early as possible to secure your seat in the programme. 

Programme content, dates, schedule, fees, delivery platforms, and faculty are subject to change. Programme fee includes food and accommodation at the ISB campus or at an equivalent facility based on availability.
Module 1: Motivation for a Modern Marketing Organisation - Tensions and opportunities and value-creation strategies for customers: An Overview
Understand the challenges faced by the marketing function
Explore opportunities provided by marketplace changes
Identify foundational and new benefit expectations of customers
Get an overview of new value-stacks for customers to deliver new benefits expected by customers
Module 2: New value-stack options for creating value for customers and the underlying capabilities
Learn how to create exchange value and relevant capabilities
Design and develop experience value-stack and necessary capabilities
Understand how to offer engagement value stack and required capabilities
Determine your customer value-stack configuration
Module 3: New value-stack opportunities for the Firm
Get an overview of new firm-directed value-stack options
Learn how to create strategic value
Understand how to align your strategies for operational value
Generate knowledge value
Determine your firm's value-stack configuration 
Faculty
ISB faculty includes leading academics with credentials and teaching experience from top global business schools as well as accomplished practitioners who have managed large enterprises.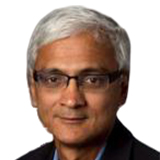 Sundar Bharadwaj
The Coca-Cola Company Chair Professor of Marketing, University of Georgia; Research Scholar, ISB
ISB Certificate
After successful completion of this programme, you will be awarded an ISB Executive Education Certificate, formal recognition of your professional development.
ISB Executive Network
On successful completion of this programme, you will be a part of the ISB Executive Network, a vast community of senior executives and entrepreneurs across the globe.
The benefits of the ISB Executive Network include:
Access to ISB Executive Network LinkedIn Group
Access to support e-mail ID
10% discount on open executive education programmes
Newsletters
or Call us Toll-free on 1800-309-0410