{ "page": { "pageInfo": { "pageType": "program" }, "components": [], "section": "sites:cee:en:individual-programmes:topic-focused-programmes:programs:strategy-formulation-and-execution", "pageName": "Strategy Formulation and Execution" }, "events": [], "form": [], "search": {}, "file": [], "user": [], "error": [] }
{ "salesforceUrl":"https://webto.salesforce.com/servlet/servlet.WebToLead?encoding=UTF-8" , "solrUrl":"https://www.isb.edu/solr/university" , "initialRouteUrl":"https://hrm.exchange.isb.edu/ProdAEMEvents/Articles" , "siteName":"cee" , "serverDownMessage":"Internal server error, please try again after some time" }
[{"value":"utm_source","text":"00N0I00000KT1fD"},{"value":"utm_medium","text":"00N0I00000KT1fI"},{"value":"campaignname","text":"00N0I00000KT1fN"},{"value":"uterm","text":"00N0I00000KT1fS"},{"value":"adgroupname","text":"00N0I00000KT1md"},{"value":"keyword","text":"00N0I00000KT1mx"},{"value":"creative","text":"00N0I00000KT1nR"},{"value":"devicemodel","text":"00N0I00000KT1ng"},{"value":"placement","text":"00N0I00000KT1nq"},{"value":"target","text":"00N0I00000KT1ot"},{"value":"device","text":"00N0I00000KT1o0"},{"value":"network","text":"00N0I00000KT1o5"},{"value":"matchtype","text":"00N0I00000KT1oA"},{"value":"gclid","text":"00N0I00000KT1oF"},{"value":"campaignname","text":"00N0I00000KT1nM"},{"value":"term","text":"00N0I00000KT1n7"}]
Module 1: Strategic Thinking and Formulation
Dive into the fundamentals of strategic thinking and strategy setting. Leverage right-thinking frameworks and tools to tap into your organisation's core competencies to create a sustainable competitive advantage. Understand the strategy formulation process that increases the likelihood of its successful implementation.
Module 2: Strategy Execution
Even the most appropriate strategies can fail because of poor execution. Understand the link between strategy formulation and strategy execution. Use powerful frameworks to create alignment between critical tasks, organisational structure, talent, and culture.
Module 3: Strategy and Business Models
Firms compete in the marketplace through business models. Dive into the fundamentals of business models. Understand the components of sound business models and how business models are derived from a firm's strategy. Assess whether the business models are adequate for sustainable growth and competitive advantage.
Module 4: Strategic Innovation
Organisations often need to look beyond their industry boundaries to drive new business models that create competitive value. This session will explore different strategies you can use to drive such innovation, focusing in particular on the construct of disruptive innovations across products and markets.
Faculty
ISB Executive Education programmes are conceptualised and taught by globally renowned faculty who are leading academicians, researchers, and accomplished industry practitioners. Through their advanced research and industry consulting experience, you will learn real-world skills that will help you solve complex business challenges in your organisation.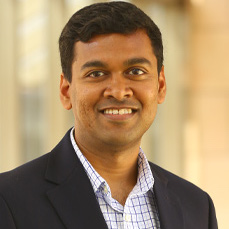 Deepak Jena
Assistant Professor of Strategy, ISB
ISB Executive Network
On successful completion of this programme, you will be a part of the ISB Executive Network, a vast community of senior executives and entrepreneurs across the globe.
The benefits of the ISB Executive Network include:
Access to ISB Executive Network LinkedIn Group
Access to support e-mail ID
10% discount on open executive education programmes
Newsletters
Participant Stories
Amarjeet Singh Tak, Head of Microscopy, Carl Zeiss India (Bangalore) Pvt. Ltd
Varun Tanwar, National Sales Manager, Experian India
Monika Chawla Jaggia, Vice president, LTFoods
Vigyan Verma, Founder, The Bottom Line
Rohit Phadke, Sr President and Head Assets, Equitas Small Finance Bank
Do you need help in identifying the right programme for you?
Get in touch with our Programme Advisors: