{ "page": { "pageInfo": { "pageType": "program" }, "components": [], "section": "sites:cee:en:individual-programmes:topic-focused-programmes:programs:transforming-customer-experiences", "pageName": "Transforming Customer Experiences" }, "events": [], "form": [], "search": {}, "file": [], "user": [], "error": [] }
{ "salesforceUrl":"https://webto.salesforce.com/servlet/servlet.WebToLead?encoding=UTF-8" , "solrUrl":"https://www.isb.edu/solr/university" , "initialRouteUrl":"https://hrm.exchange.isb.edu/ProdAEMEvents/Articles" , "siteName":"cee" , "serverDownMessage":"Internal server error, please try again after some time" }
[{"value":"utm_source","text":"00N0I00000KT1fD"},{"value":"utm_medium","text":"00N0I00000KT1fI"},{"value":"campaignname","text":"00N0I00000KT1fN"},{"value":"uterm","text":"00N0I00000KT1fS"},{"value":"adgroupname","text":"00N0I00000KT1md"},{"value":"keyword","text":"00N0I00000KT1mx"},{"value":"creative","text":"00N0I00000KT1nR"},{"value":"devicemodel","text":"00N0I00000KT1ng"},{"value":"placement","text":"00N0I00000KT1nq"},{"value":"target","text":"00N0I00000KT1ot"},{"value":"device","text":"00N0I00000KT1o0"},{"value":"network","text":"00N0I00000KT1o5"},{"value":"matchtype","text":"00N0I00000KT1oA"},{"value":"gclid","text":"00N0I00000KT1oF"},{"value":"campaignname","text":"00N0I00000KT1nM"},{"value":"term","text":"00N0I00000KT1n7"}]
Overview
Meeting customer demands is vital; failing to do so can lead to losses due to switching behaviour. Customer acquisition costs are rising, emphasising the importance of retention for scaling and profitability.
The Transforming Customer Experiences programme aims to enhance your offerings, helping you create a unified, compelling customer experience, which, in turn, boosts customer loyalty, resulting in a substantial increase in customer lifetime value and overall profitability.
The Programme Will Help You
Develop a strategic approach to acquiring and retaining your customers to improve profitability
Build a customer-centric organisation
Differentiate your customer service models
Go beyond surface-level customer friendliness and understand your customer's real needs, improving customer stickiness
Create and design customer-oriented value propositions
Understand the trade-offs in designing your customer experiences
Be nimble in your approach to overcome market competition and disruptive strategies, to increase sales at a lower cost of acquisition
Leverage technology to improve customer service
Identify areas of improving service frameworks and manage relationships across the customer life cycle
Is This Programme For You?
This programme is best suited for:
Mid–level and senior managers who are

Tasked with growth as a part of their business strategies
Building or looking to improve their skills related to developing contemporary brands, managing, and growing existing brands, and/or revitalising fading brands 
From marketing and sales functions who want to sharpen their brand agenda
From service-oriented industries who are looking to improve customer service scores and improve NPS
Playing a key role in crafting customer growth strategies

Senior executives from strategy, HR and technology teams who wish to gain a deeper understanding of customer-centricity and the impact on profitability
Admission Criteria and Selection
This programme does not have any formal education requirements. However, we admit candidates based on their professional experience and organisational responsibilities. We encourage you to apply as early as possible to secure your seat in the programme.   

Programme Curriculum
Engage in case studies, exercises, and simulations relevant to managing developed and developing markets across sectors.
The programme includes cases, lectures, and frameworks to allow participants to apply their learnings in a real-time, competitive situation.
Module 1: Market Disruption and Customer Centricity
Introduction to customer-centric marketing process: Design thinking approach
Understanding customer needs and behaviour
Identifying the right customers to target
Marketing research for customer-centricity
Growth hacking
Module 2: Creating Value for The Customer
Understanding and leveraging customer journeys 
Creating superior value for targeted customers
Ethical issues
Comprehensive case discussion
Module 3: Positioning Your Product or Service
How to plan and achieve the desired position for your product or service
Perception management in the digital world
Module 4: Developing Customer-Centric Offerings
Learning and applying conjoint analysis to develop customer-centric offerings
Analysing consumer preferences
Module 5: Managing Customers Profitably
Managing customer relationships across the customer life cycle
Customer acquisition and customer retention
Examining customer relationship health: Metric of Customer Lifetime Value (CLV)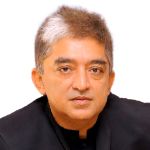 Harish Bijoor
Visiting Faculty, ISB
ISB Certificate
After successful completion of this programme, you will be awarded an ISB Executive Education Certificate, formal recognition of your professional development.
ISB Executive Network
On successful completion of this programme, you will be a part of the ISB Executive Network, a vast community of senior executives and entrepreneurs across the globe.
The benefits of the ISB Executive Network include:
Access to ISB Executive Network LinkedIn Group
Access to support e-mail ID
10% discount on open executive education programmes
Newsletters
Participant Stories
Gaurav Pokharna, Key Account Lead, IQVIA
Parija Parikh, Consultant, IQVIA
or Call us Toll-free on 1800-309-0410