{ "page": { "pageInfo": { "pageType": "program" }, "components": [], "section": "sites:cee:en:individual-programmes:topic-focused-programmes:programs:transforming-customer-experiences", "pageName": "Transforming Customer Experiences" }, "events": [], "form": [], "search": {}, "file": [], "user": [], "error": [] }
{ "salesforceUrl":"https://webto.salesforce.com/servlet/servlet.WebToLead?encoding=UTF-8" , "solrUrl":"https://www.isb.edu/solr/university" , "initialRouteUrl":"https://hrm.exchange.isb.edu/ProdAEMEvents/Articles" , "siteName":"cee" , "serverDownMessage":"Internal server error, please try again after some time" }
[{"value":"utm_source","text":"00N0I00000KT1fD"},{"value":"utm_medium","text":"00N0I00000KT1fI"},{"value":"campaignname","text":"00N0I00000KT1fN"},{"value":"uterm","text":"00N0I00000KT1fS"},{"value":"adgroupname","text":"00N0I00000KT1md"},{"value":"keyword","text":"00N0I00000KT1mx"},{"value":"creative","text":"00N0I00000KT1nR"},{"value":"devicemodel","text":"00N0I00000KT1ng"},{"value":"placement","text":"00N0I00000KT1nq"},{"value":"target","text":"00N0I00000KT1ot"},{"value":"device","text":"00N0I00000KT1o0"},{"value":"network","text":"00N0I00000KT1o5"},{"value":"matchtype","text":"00N0I00000KT1oA"},{"value":"gclid","text":"00N0I00000KT1oF"},{"value":"campaignname","text":"00N0I00000KT1nM"},{"value":"term","text":"00N0I00000KT1n7"}]
Summary
Customers have become increasingly demanding, and any failure to meet their needs can result in switching behaviour and loss of business. At the same time, it has become more expensive to acquire customers, thus making retention that much more critical to achieve scale and maintain profitability.
Transforming Customer Experiences is a programme to help you differentiate your product and service offerings to deliver a unified customer experience that offers a unique and compelling proposition to your customers. Customer loyalty is the foundation for improved customer lifetime value which has a tremendous bearing on customer profitability.
Limited seats remain. Applications closing soon
Who Should Attend
This programme is best suited for:
Senior executives from the marketing and allied functions of medium to large firms
Presidents and vice-presidents of smaller customer-oriented firms
Mid – level and senior managers

 Who are tasked with growth as a part of their business strategies
 Building or looking to improve their skills related to developing contemporary brands, managing, and growing existing brands, and/ or revitalising fading brands 
From sales and marketing functions who want to sharpen their brand management skills 
From service-oriented industries who are looking to improve customer service scores and improving NPS 
Who play a key role in crafting customer growth strategies

Senior executives from product, operations, technology teams who wish to gain a deeper understanding of customer-centricity and the impact on profitability
Learning Experience
ISB Executive Education programmes are replete with distinctive teaching methodologies and an intense and challenging learning environment that pushes participants' learning horizons beyond their pre-existing beliefs. Through lectures from distinguished faculty, local and global case studies, business simulations, and group discussions with extraordinary peers from a broad range of industries, regions, and functions, you will be equipped with the strategies, tools and insights required to transform your thinking and achieve ambitious business objectives. You will return to your organisation, fully ready to apply what you have learned. You will also take with you a rich network of relationships that will enrich your personal and professional lives long after you complete the programme.

Experience learning in state-of-the-art classrooms and campus facilities designed to create an environment conducive to sparking self-reflection, innovation, and collaboration.

Admission Criteria and Selection
We admit candidates to upcoming sessions on a rolling, space-available basis, and encourage you to apply as early as possible to secure your seat in the programme. 

Programme content, dates, schedule, fees, delivery platforms, and faculty are subject to change. Programme fee includes food and accommodation at the ISB campus or at an equivalent facility based on availability.
What You Will Learn
Become aware of the hazards of continuing with an inside-out  approach to serving customers 
Understand the need for customer-centricity to compete in disruptive  environments
Appreciate the benefits of an outside-in focus as the founding principle of customer-centricity, and the strategic importance of a differentiated value proposition
Understand the key elements of a value proposition and their purpose
Construct a compelling, deliverable value proposition for your own offerings
Leverage the strategies for designing and delivering superior customer service 
Link the value proposition to financial metrics that matter to top management
Module 1: Market Disruption and Customer Centricity
Introduction to customer-centric marketing process: Design thinking approach
Understanding customer needs and behaviour
Identifying the right customers to target
Marketing Research for Customer centricity
Growth Hacking
Module 2: Creating Value for The Customer
Understanding and leveraging customer journeys
Creating superior value for targeted customers
Ethical Issues
Comprehensive Case discussion
Module 3: Developing Customer-Centric Offerings
Learning and applying conjoint analysis to develop customer-centric offerings
Analysing Consumer Preferences
Module 4: Positioning Your Product or Service
How to plan and achieve the desired position for your product or service
Perception management in the digital world
Module 5: Managing Customers Profitably
Managing customer relationships across the customer life cycle
Customer Acquisition, Customer and Retention
Examining customer relationship health: Metric of Customer Lifetime Value (CLV)
Faculty
ISB faculty includes leading academics with credentials and teaching experience from top global business schools as well as accomplished practitioners who have managed large enterprises.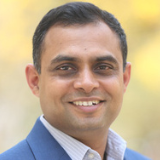 Siddharth Singh
Associate Professor, Marketing
ISB Certificate
After successful completion of this programme, you will be awarded an ISB Executive Education Certificate, formal recognition of your professional development.
ISB Executive Network
On successful completion of this programme, you will be a part of the ISB Executive Network, a vast community of senior executives and entrepreneurs across the globe.
The benefits of the ISB Executive Network include:
Access to ISB Executive Network LinkedIn Group
Access to support e-mail ID
10% discount on open executive education programmes
Newsletters
or Call us Toll-free on 1800-309-0410