{ "page": { "pageInfo": { "pageType": "genericPage" }, "components": [], "section": "sites:cee:en:psu-solutions", "pageName": "Public Sector Programmes" }, "events": [], "form": [], "search": {}, "file": [], "user": [], "error": [] }
{ "salesforceUrl":"https://webto.salesforce.com/servlet/servlet.WebToLead?encoding=UTF-8" , "solrUrl":"https://www.isb.edu/solr/university" , "initialRouteUrl":"https://hrm.exchange.isb.edu/ProdAEMEvents/Articles" , "siteName":"cee" , "serverDownMessage":"Internal server error, please try again after some time" }
[{"value":"utm_source","text":"00N0I00000KT1fD"},{"value":"utm_medium","text":"00N0I00000KT1fI"},{"value":"campaignname","text":"00N0I00000KT1fN"},{"value":"uterm","text":"00N0I00000KT1fS"},{"value":"adgroupname","text":"00N0I00000KT1md"},{"value":"keyword","text":"00N0I00000KT1mx"},{"value":"creative","text":"00N0I00000KT1nR"},{"value":"devicemodel","text":"00N0I00000KT1ng"},{"value":"placement","text":"00N0I00000KT1nq"},{"value":"target","text":"00N0I00000KT1ot"},{"value":"device","text":"00N0I00000KT1o0"},{"value":"network","text":"00N0I00000KT1o5"},{"value":"matchtype","text":"00N0I00000KT1oA"},{"value":"gclid","text":"00N0I00000KT1oF"},{"value":"campaignname","text":"00N0I00000KT1nM"},{"value":"term","text":"00N0I00000KT1n7"}]
Custom Solutions for Government and PSUs
Based on a deep understanding of the challenges faced by governments, their organisational structures, strengths, and potential.
Skills Hub
Research-backed skilling interventions to bridge the gap between the demands of the market and skillsets possessed.
Skills Hub
Research-backed skilling interventions to bridge the gap between the demands of the market and skillsets possessed.
Learning Solutions for Government and PSUs
The Government Solutions offered by ISB span across three categories:

       1)    Capacity Building for Governments and Public Sector Units
       2)    Programmes for broad-based workforce skilling
       3)    Policy Research and Analysis
   1. Capacity Building for Government and Public Sector Units (PSUs)
The ISB possesses strong capabilities in the capacity building of traditional organisations; it has also strongly felt the need to strengthen specific skillsets within government establishments to help them achieve higher levels of performance and service delivery. To this end, the Government Solutions team at the ISB Executive Education (EE)  department offers an array of expert training and workforce development programmes for central, state and local governments. Our offerings include custom training courses design and delivery, as well as bespoke and dedicated assistance with organisational development efforts, operations, coaching and mentorship.
Over the past decade and a half, the ISB has worked with several government and public sector organisations to help them overcome common and novel challenges of leadership, implementation, strategy, and change management.
Our credentials are evident from the fact that the ISB has:                                         
 Had 15 years of fruitful engagement with governments and PSUs at various levels
 Is among the largest provider of executive education in India and Asia
 Is an official Knowledge Partner to Capacity Building Commission (CBC), India
 Is empanelled with the Department of Personnel and Training (DOPT) for its long duration programme, the Advanced Management Programme in Public Policy (AMP-PP)
 Has over 6,500 alumni across its government and custom programmes
 Has conducted mid-career training programmes (MCTPs) for around 1,900 senior officers from All India Services
Custom Solutions for Public Sector
Our programmes are designed based on a deep understanding of the challenges faced by governments, their organisational structures, strengths and potential. We possess advanced capabilities in conducting programmes through a variety of formats including live virtual, on-campus/on-site, asynchronous online, and elaborately blended formats that provide learning experiences best suited to the organisation's department or organisation.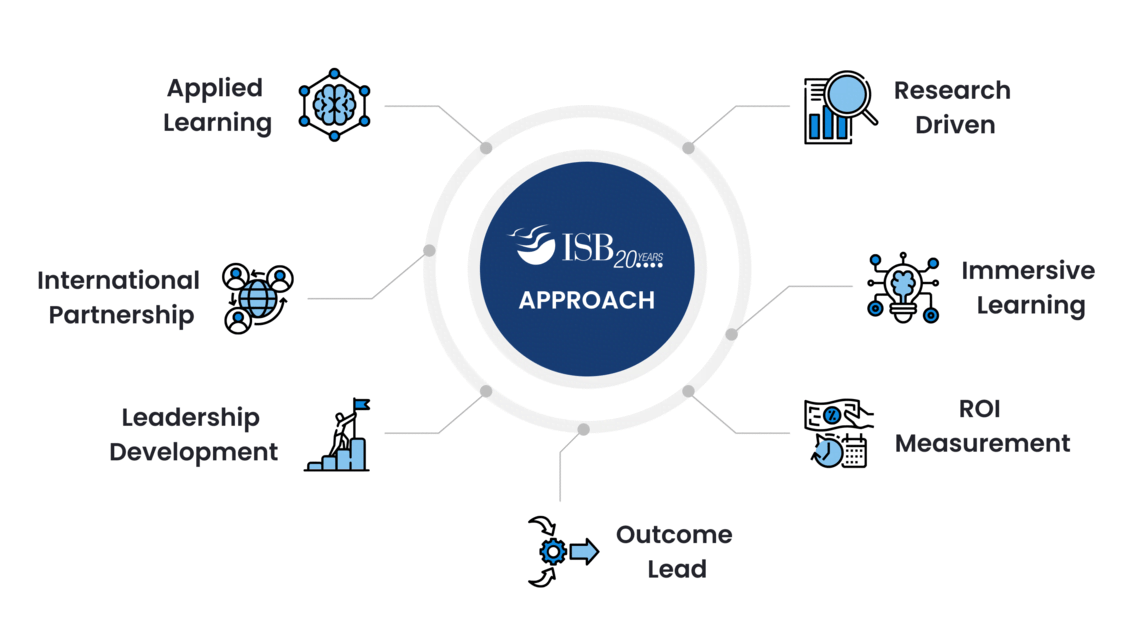 ISB-EE benefits for the Indian public sector
Capacity building and training to solidify the existing capabilities of officers, and an expansion of their technical knowledge, leadership skills and strategic abilities
Relevant, actionable and domain-aligned curricula
Continually evolving and innovative learning methodology that blends practical elements, problem solving activities, and case study-based pedagogy to achieve learning outcomes
Optimum faculty mix of academicians, practitioners and industry experts that harness our partnerships with some of the best business schools in the world and leverage our association with domain experts
Our approach and methodology
Our dedicated programme design team studies extant challenges across sectors and functions, and maps learning outcomes to the latest findings in management and development research. Our programmes are thus the most relevant to participants and their organisations in terms of issues addressed, ideas provided, and pedagogy delivered.
Approach to training design :
The ISB has an intensely tested and carefully crafted process to design and deliver mid-career training programmes (MCTPs) to government officials. A schematic diagram of this approach is offered below.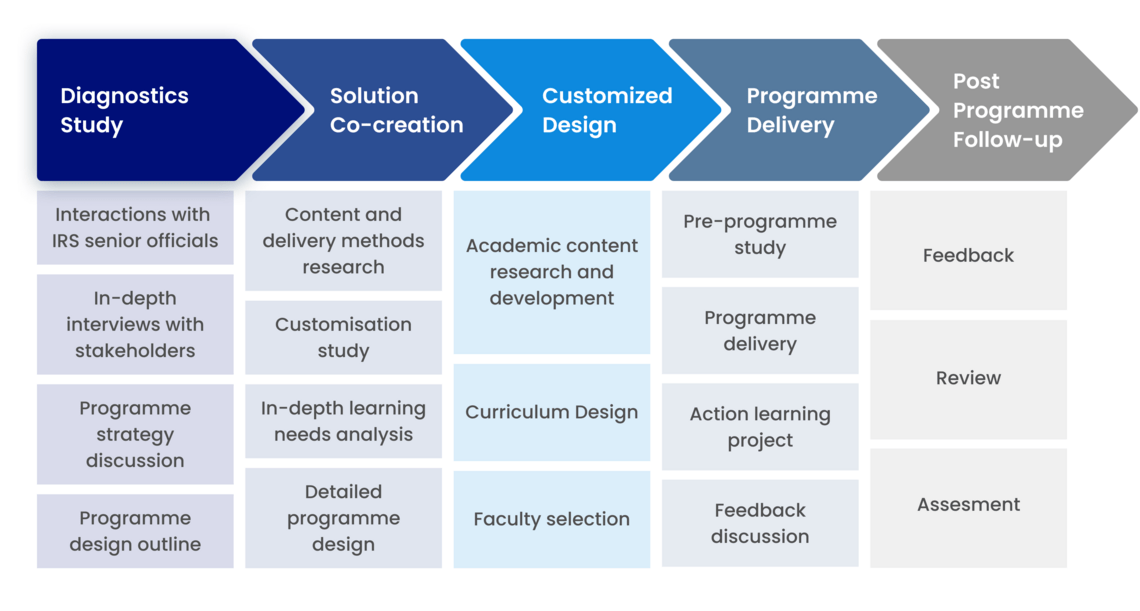 +6500 alumni across Government and Public Sector programs 
All India Civil Services;State Government Officials;Public Sector Officials;Multilateral agencies(UN,World Bank,ADB etc.);
Embassy personnel;Non-Goverfnment Organizations(Indian and International)
"Participants found the exposure to lateral thinking,
thinking ahead, leadership and change management.
Concepts taught were very useful and we hope to 
implement some of these to daily work at MEA." - 
Management Development Workshop for Senior Diplomats 
at Ministry of External Affairs - Programme has been
highly popular and is in its fourth year
"The ISB faculty nudged us towards 'unlearning' 
many traits that we had acquired in last 15 
years of Governmant service and 'relearning'
another set were we can see beyond our 
limited environment." - CBDT Progarmme
   2.  Programmes for broad-based workforce skilling
India needs a skilled workforce. Despite our large working-age population, the demographic dividend can only be realized when citizens entering the workforce are adequately trained in the critically required skills that are relevant today and also in line with the evolving global economic landscape.
The ISB's unique initiative — the Skills Hub — is aimed towards addressing precisely this need. With the Skills Hub, the ISB has entered the field of offering skilling of youth, students, jobseekers, and citizens with the foundational skills necessary to move successfully into the labour market. To this end, we utilize research-backed skilling interventions delivered by world-class faculty to bridge the gap between the demands of the market and skillsets possessed by the learners, who are keen to join the workforce.
With the Skills Hub, the Government Solutions team is engaging with multiple central and state governments agencies to build the professional capacity among youth by offering targeted skill enhancement programmes.
ISB-EE benefits for workforce skilling
Research-backed, evidence-based course plan and design
 Programmes developed and delivered by world-class ISB faculty
 Insights drawn from the industry to identify and bridge skill-deficit gaps by offering targeted training required for enhancing employability
Participants benefit from ISB certification and credentialing, leading to broader employment and economic opportunities for them
Programmes offered : The Skills Hub is currently developing and delivering several self-paced skilling programmes through asynchronous recorded sessions delivered by both ISB faculty and leading industry experts. Each programme offers approximately 40 hours of content, deployed through a Learning Management System (LMS).

The following four programmes are currently in the process of being rolled out, with several more in the pipeline:
Management of Organizations
Accounting Fundamentals
Macroeconomics
Microeconomics
Statistics & Data Analytics
Technology Fundamentals
Strategies for Digital Economy
Marketing Management
Corporate Finance
Operations Management
Negotiation Analysis
Competitive Strategy
Project Management
Leadership & Emotional Intelligence
Inculcating Growth Mindset
Introduction to Technology
Being a Responsible Netizen
Effective Oral & Non-Verbal Communication
Introduction to Productivity Programmes
Negotiation Analysis
Leader as Influencer & Collaborator
Presentation & Public Speaking
Art of Networking
Effecting Change
Critical & Integrative Thinking
Building Self-Awareness
Working with Empathy
Building your Personal Brand
Art of Storytelling
Artificial Intelligence
Blockchain
Accounting Fundamentals
Digital Business Models
Business Value of Technology
Digital Marketing & SEO
IT Project Management
Working Effectively in Teams
Data Science Fundamentals
Data Visualization & Communications
Text Analysis & Social Computing
Art of Storytelling
Entrepreneurial Orientation
Understanding the start-up development pipeline
Identifying Market Problems, Needs, and Opportunities
Developing a Business Model
Attracting and Retaining Talent
Building Teams
Basics of Finance
Marketing Fundamentals
Operations Management
Digital Education
Raising Capital
Protecting your Intellectual Property
   3.  Public sector research and policy analysis

As the country's most research-intensive management training institute, the Indian School of Business (ISB) is a national leader in generating impactful and actionable research across knowledge areas of management, economics, and public policy. A dedicated public policy analysis team works within our Executive Education department, undertaking research on the Indian public sector focused largely on governance delivery, workforce skilling, entrepreneurship, and employment generation.
1.  Uncovering mechanisms behind effective knowledge transfer in the Indian public sector
As a leading business management and leadership training institute, the ISB routinely engages with the Indian central and various state governments as well as industry bodies and public sector organisations to deliver targeted, custom training solutions  for senior personnel from across sectors and cadres. Our training curricula draw from the cutting-edge of management literature and are designed to plug identified knowledge gaps in the public sector. Further, all programme delivery is supplemented by rigorous impact evaluations wherein we examine the training efficacy and unearth mechanisms behind effective course take-up through both qualitative and quantitative investigations, generating a rich body of research on effective pedagogy design, knowledge transfer and peer learning effects within the public sector in the context of developing economies. Our findings also pave the path for iterative course corrections if needed, and thus underscore the ISB's commitment to delivering high quality, world-class education at every level.
Our evaluations are recognised for their rigour and relevance, and we also assist our knowledge partners in the Indian government — such as the Capacity Building Commission (CBC), set up as an independent body under the GoI's Mission Karmayogi — in evaluating civil servant training at various levels across the country. More recently, our research has also focused on another critical aspect of capacity building in the public sector: training institute quality. To this end, the ISB-EE has joined hands with the CBC to develop a unique Maturity Index for civil services training institutes across the country, which will underpin all future bureaucrat training efforts.
2. Generating insights into the Indian labour market through employability research
The ISB has had long-standing engagements with various national organisations across the country such as the Common Services Centre (CSC) under the Ministry of Electronics and Information Technology (MEITY), as well as state-level organisations such as the Andhra Pradesh Information Technology Academy (APITA), AP State Skill Development Corporation (APSSDC), State Board of Technical Education and Training, Government of Telangana (SBTET) to design and deliver skilling programmes  for citizens. The ISB-EE has deployed its research abilities to collate rich insights into labour market dynamics through these collaborations and is working alongside partner organisations to create an ML-based tool for harnessing labour market intelligence to bridge skill and employment gaps across the country.
In line with the Government of India's vision for a Digital India, our skilling efforts focus on enhancing ICT tool use, digital literacy, and employment generation through entrepreneurial training that is delivered across a range of enterprise types, beginning at the village level.
3. Creating case studies for global management training
The ISB-EE is working with the Common Services Centres (CSC) scheme under the aegis of the Ministry of Electronics and Information Technology (MEITY), to develop a series of case studies on recent government efforts to bolster e-governance service delivery, digital literacy, rural entrepreneurship, and financial inclusion through technology at the grassroots levels.
The ISB makes its case studies available to management institutions throughout the world through the Harvard Business Publishing platform , and hopes that these new studies will provide a base for students globally to think about innovative ways of addressing social welfare and development challenges in the context of the Global South and developing economies in general.
Also see : The several Research Centres and Institutes (RCIs) at the ISB serve as dedicated hubs of knowledge growth and host faculty members and analysts from across industry and academia who are committed to producing world-class research.