{ "page": { "pageInfo": { "pageType": "genericPage" }, "components": [], "section": "sites:cee:en:psu-solutions:psu-custom-solutions:psu-engagement-process", "pageName": "Public Sector Engagement Process" }, "events": [], "form": [], "search": {}, "file": [], "user": [], "error": [] }
{ "salesforceUrl":"https://webto.salesforce.com/servlet/servlet.WebToLead?encoding=UTF-8" , "solrUrl":"https://www.isb.edu/solr/university" , "initialRouteUrl":"https://hrm.exchange.isb.edu/ProdAEMEvents/Articles" , "siteName":"cee" , "serverDownMessage":"Internal server error, please try again after some time" }
[{"value":"utm_source","text":"00N0I00000KT1fD"},{"value":"utm_medium","text":"00N0I00000KT1fI"},{"value":"campaignname","text":"00N0I00000KT1fN"},{"value":"uterm","text":"00N0I00000KT1fS"},{"value":"adgroupname","text":"00N0I00000KT1md"},{"value":"keyword","text":"00N0I00000KT1mx"},{"value":"creative","text":"00N0I00000KT1nR"},{"value":"devicemodel","text":"00N0I00000KT1ng"},{"value":"placement","text":"00N0I00000KT1nq"},{"value":"target","text":"00N0I00000KT1ot"},{"value":"device","text":"00N0I00000KT1o0"},{"value":"network","text":"00N0I00000KT1o5"},{"value":"matchtype","text":"00N0I00000KT1oA"},{"value":"gclid","text":"00N0I00000KT1oF"},{"value":"campaignname","text":"00N0I00000KT1nM"},{"value":"term","text":"00N0I00000KT1n7"}]
The ISB Approach
Our dedicated programme design team studies extant challenges across sectors and functions, and maps learning outcomes to the latest findings in management and development research. Our programmes are thus the most relevant to participants and their organisations in terms of issues addressed, ideas provided, and pedagogy delivered. 
Approach to Training Design
ISB Executive Education has an intensively tested and carefully crafted process to design and deliver mid-career training programmes (MCTPs) to government officials. A schematic diagram of this approach is offered below.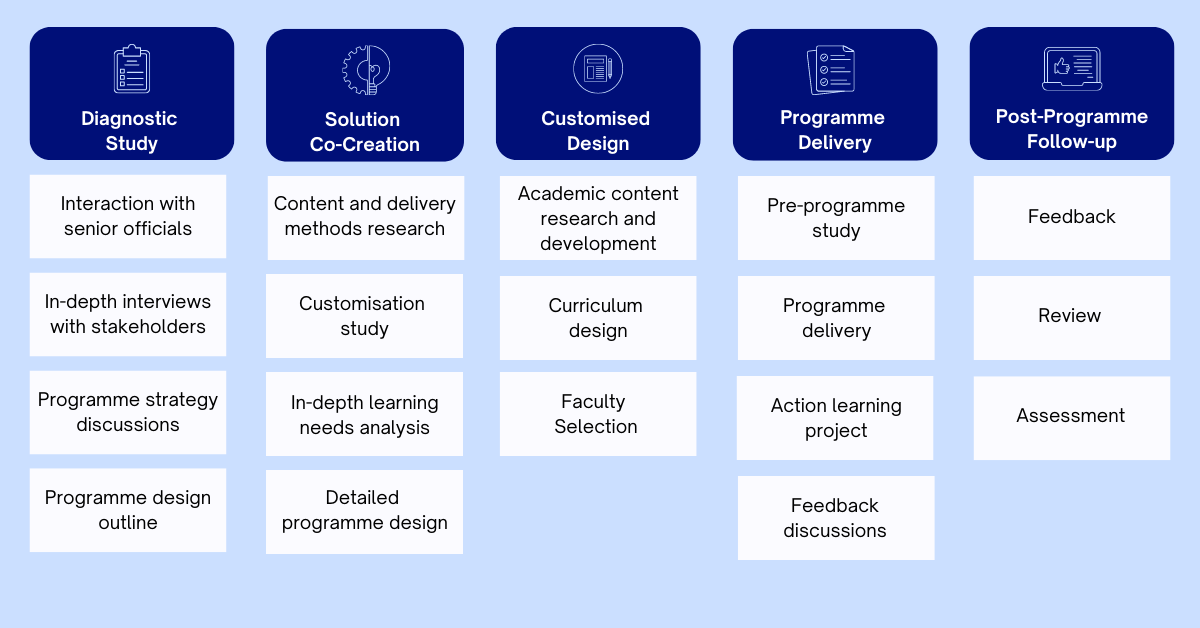 Benefits for the Indian Public Sector
Capacity building and training to solidify the existing capabilities of officers, and an expansion of their technical knowledge, leadership skills and strategic abilities
Relevant, actionable, and domain-aligned curricula
Knowledge materials aligned to the goal of nation-building
Continually evolving and innovative learning methodology that blends practical elements, problem-solving activities, and case study-based pedagogy to achieve learning outcomes
Optimum faculty mix of academicians, practitioners and industry experts that harness our partnerships with some of the best business schools in the world and leverage our association with domain experts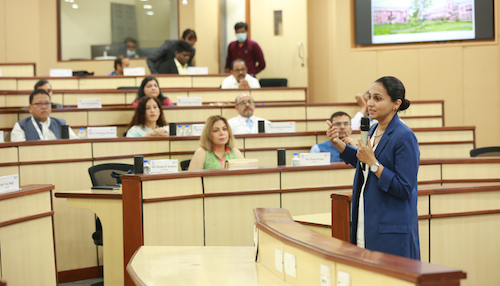 Programme for Senior Indian Diplomats
Participants found the exposure to lateral thinking, thinking ahead, leadership and change management. Concepts taught were very useful and we hope to implement some of these to daily work at MEA.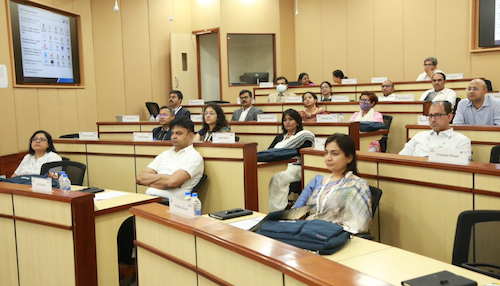 Programme for IRS Officers of Central Board of Direct Taxes, GOI
The ISB Faculty nudged us towards 'unlearning' many traits that we had acquired in the last 15 years of Government service and 'relearning' another set where we can see beyond our limited environment.