{ "page": { "pageInfo": { "pageType": "program" }, "components": [], "section": "sites:cee:en:individual-programmes:topic-focused-programmes:programs:operational-excellence", "pageName": "Operational Excellence for Leaders" }, "events": [], "form": [], "search": {}, "file": [], "user": [], "error": [] }
{ "salesforceUrl":"https://webto.salesforce.com/servlet/servlet.WebToLead?encoding=UTF-8" , "solrUrl":"https://www.isb.edu/solr/university" , "initialRouteUrl":"https://hrm.exchange.isb.edu/ProdAEMEvents/Articles" , "siteName":"cee" , "serverDownMessage":"Internal server error, please try again after some time" }
[{"value":"utm_source","text":"00N0I00000KT1fD"},{"value":"utm_medium","text":"00N0I00000KT1fI"},{"value":"campaignname","text":"00N0I00000KT1fN"},{"value":"uterm","text":"00N0I00000KT1fS"},{"value":"adgroupname","text":"00N0I00000KT1md"},{"value":"keyword","text":"00N0I00000KT1mx"},{"value":"creative","text":"00N0I00000KT1nR"},{"value":"devicemodel","text":"00N0I00000KT1ng"},{"value":"placement","text":"00N0I00000KT1nq"},{"value":"target","text":"00N0I00000KT1ot"},{"value":"device","text":"00N0I00000KT1o0"},{"value":"network","text":"00N0I00000KT1o5"},{"value":"matchtype","text":"00N0I00000KT1oA"},{"value":"gclid","text":"00N0I00000KT1oF"},{"value":"campaignname","text":"00N0I00000KT1nM"},{"value":"term","text":"00N0I00000KT1n7"}]
Summary
In this turbulent but exciting phase of growth in the world of business, the survival and evolution of an organisation depends on the resilience and agility of its strategies, processes, people, and technology. In this customer age, the need to successfully implement improvements aimed at meeting fast-changing customer expectations has also increased manifold.
Operational Excellence for Leaders is a 2-day programme introducing a variety of agendas for enhancing customer-defined value created through operational excellence.  
Execute your organisation's strategy in a way to outperform competition. Drive integrated performance across revenue, cost, and risk. Focus on meeting customer expectation through the continuous improvement of operational processes and systems towards creating a culture of excellence in organisations.
Key Takeaways
Equip yourself to help organisations improve bottom-line (reduce cost) and top line (increase revenues)
Look beyond events or projects to building a culture of excellence
Learn to balance processes, people, and technology aspects towards building organisational capability and maturity
Advance through the digital technologies and process improvements for digitising existing processes and moving towards newer business models
Gain the confidence to manage change and enable excellence in organisations as a habit
Who Should Attend
This programme is best suited for mid to senior management professionals who are responsible for driving operational capabilities from manufacturing and service-driven organisations. People Managers and aspiring leaders who like to advance in careers to grow in organisational hierarchy to take-up senior, responsible positions will also benefit from the programme.
Learning Experience
ISB Executive Education programmes are replete with distinctive teaching methodologies and an intense and challenging learning environment that pushes participants' learning horizons beyond their pre-existing beliefs. Through lectures from distinguished faculty, local and global case studies, business simulations, and group discussions with extraordinary peers from a broad range of industries, regions, and functions, you will be equipped with the strategies, tools and insights required to transform your thinking and achieve ambitious business objectives. You will return to your organisation, fully ready to apply what you have learned. You will also take with you a rich network of relationships that will enrich your personal and professional lives long after you complete the programme.
On-Campus: Experience learning in state-of-the-art classrooms and campus facilities designed to create an environment conducive to spark self-reflection, innovation, and collaboration.
Admission Criteria and Selection
We admit candidates to upcoming sessions on a rolling (first come first served), space-available basis, and encourage you to apply as early as possible to secure your seat in the programme. 

Programme content, dates, schedule, fees, delivery platforms, and faculty are subject to change. Programme fee includes food and accommodation at the ISB campus or at an equivalent facility based on availability.
What You will Learn
Through faculty presentations, group discussions, and industry speaker sessions, you will be able to gain focus beyond the traditional event-based model of improvement and learn new ways to manage a long-term change in organisational culture. You will also familiarise yourself with practical applications of concepts like Lean, Six Sigma, Project Management, and change management with a fine balance between products and services related contexts.
Some key topics include:
·       Strategy Deployment
·       Balanced Score Card
·       Lean Six Sigma
·       Process Designs
·       Process Control and Improvement
·       Technology Strategy
·       Digital Transformation
·       Capability Building
·       High-Performance Teams
Building Block 1: Strategy Deployment
Learn to follow a well-structured method of deploying your organisation's strategy by defining your strategic goals, objectives, and actionable plan while aligning to different parts of your organisation. Learn to drive your organisation's progress with management tools like Hoshin Kanri, Catch-ball, Strategy Maps, and Balanced Scorecard.
Building Block 2: Process Excellence
Develop an overall understanding of Lean and Six Sigma toolkits to ensure a well-defined review process. Drive effective and efficient management with process thinking, process capability and control, process improvement, and design.
Building Block 3: Technology Excellence
Adopt a well-articulated framework to help your organisation meet the increasing expectations to achieve technology excellence. Enhance your understanding of technology-based improvements, strategy, and business model innovation. Gain actionable insights into technology propensity, absorption, and exploitation across various industries and organisations.
Building Block 4: People Excellence
Scale up your organisation's people strategy by creating agile and high-performing teams and bring people excellence at the top of your agenda. Focus on continuous improvement and effective change management practices. Gain an understanding of concepts like situational leadership and people behaviour. 
ISB faculty includes leading academics with credentials and teaching experience from top global business schools as well as accomplished practitioners who have managed large enterprises.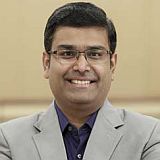 Vijaya Sunder M
Assistant Professor (Practice), Operations Management Walter E. Masing Thought Leader in Quality Management ASQ Crosby Medal Recipient Faculty British American Tobacco (BAT) Research Fellow
ISB Certificate
After successful completion of this programme, you will be awarded an ISB Executive Education Certificate, formal recognition of your professional development.
ISB Executive Network
On successful completion of this programme, you will be a part of the ISB Executive Network, a vast community of senior executives and entrepreneurs across the globe.
The benefits of the ISB Executive Network include:
Access to ISB Executive Network LinkedIn Group
Access to support e-mail ID
10% discount on open executive education programmes
Newsletters
Learn More
Thank you for submitting your details. You will receive the brochure on your email shortly.
Do you need help in identifying the right programme for you?
Get in touch with our Programme Advisors:
You can also call us on our Toll-free number 1800-309-0410 for any queries.